Estimated read time: 2-3 minutes
This archived news story is available only for your personal, non-commercial use. Information in the story may be outdated or superseded by additional information. Reading or replaying the story in its archived form does not constitute a republication of the story.
SALT LAKE CITY — Salt Lake City fire investigators said Monday night's fire in the LDS Conference Center started near a bank of batteries.
The fire at The Church of Jesus Christ of Latter-day Saints' Conference Center, 60 N. West Temple, started in a mechanical room about 8:15 p.m.
The room is directly above the pulpit in the main conference area, said Salt Lake fire spokesman Jasen Asay. The batteries are used as a backup that kick on when the generator needs to start, such as after a power failure, he said.
Although they know where the fire started, investigators still did not know how it started as of Tuesday morning.
Two overhead sprinklers doused the fire quickly. But thousands of gallons of water poured into the conference center, Asay said.
"The water from the ceiling sprinklers fell mostly on the first 10 or so rows in the conference center. Firefighters draped tarps over several seats and camera equipment. They also moved television screens away from the water," according to a prepared statement from the fire department.
The LDS Church released a brief statement Tuesday saying the damage wasn't as bad as originally reported.
"The fire at the church Conference Center was limited to a backup power supply cabinet in an electrical control room above the main auditorium," according to the statement. "Water overflow to the auditorium floor below was limited to a 50-foot area in front of the podium but did not cause significant damage. Water in the affected area has been extracted and fans are being used to dry the carpet and chairs."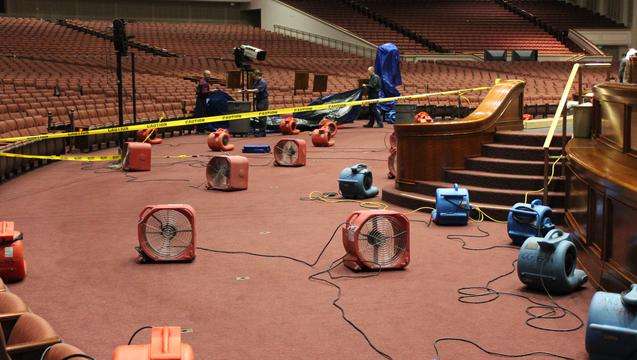 No damage estimate was provided.
Salt Lake firefighters completed their work about 10:30 p.m. Monday and turned the remaining cleanup over to LDS Church maintenance crews, Asay said.
No one was injured in the incident.
The Conference Center is home of the twice-yearly general conferences of the LDS Church. Other church and community events are held there throughout the year, including concerts of the Mormon Tabernacle Choir. Construction of the 21,000-seat venue was completed in 2000.
---
×
Photos
Related links
Related stories
Most recent Utah stories