Estimated read time: 2-3 minutes
This archived news story is available only for your personal, non-commercial use. Information in the story may be outdated or superseded by additional information. Reading or replaying the story in its archived form does not constitute a republication of the story.
Alex Cabrero Reporting Wrestling fans might remember Diamond Dallas Page. Utah Jazz fans might remember him as Karl Malone's tag-team partner against Hulk Hogan and Dennis Rodman. Now Page wants you to be his tag-team partner.
Page is retired from wrestling now. He lives in Los Angeles working as an actor, but he will fly to Salt Lake, take a person out to lunch and give that person $500. That person could be you, but first you need to find his missing cat.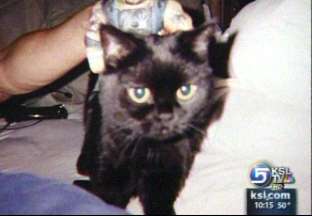 For one night nine years ago Stockton to Malone became Page to Malone, as the Mailman teamed up with Diamond Dallas Page in a WWE title match. Right away, Page fell in love with Salt Lake City and its fans and told his wife he could picture staying in Utah for good.
"Wrestling Karl Malone, I loved it so much there that when I came back the first time, I told Kim, I said, 'We could move there. I love that place.'"
Page eventually decided to move to L.A. for an acting career, but his ex-wife, Kimberly, moved to Salt Lake. It's that move that the two now hope will bring their cat back.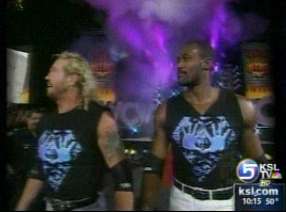 Kimberly said, "If you're going to lose a pet, lose it in Salt Lake, because the people here have been so amazing."
This past Monday Kimberly Page left the screen door to her Sugarhouse home open, and her cat, Spooki, ran out.
"I've been looking for her ever since. My heart is broken. She's 15 years old. I've had her my whole life," Kimberly said.
Even though divorced, Kimberly and Dallas have remained friends and share custody of Spooki. The cat spends time in Salt Lake and Los Angeles.
Diamond Dallas Page said, "It's like a kid. That's the way animals are; they become a part of your family."
Page teamed up with the Mailman once before; now he and his ex-wife are hoping it's the fans who deliver.
Spooki, named because she was a black cat bought on Halloween, went through cancer radiation treatments a few year ago, which left a white patch of fur on her back. If she's found, Diamond Dallas Page will fly to Salt Lake to take the finder out to lunch and give that person $500.
×
Most recent Utah stories