This archived news story is available only for your personal, non-commercial use. Information in the story may be outdated or superseded by additional information. Reading or replaying the story in its archived form does not constitute a republication of the story.
SALT LAKE CITY — It's a brotherhood no one chose to join: being a former prisoner of war.
About two dozen of Utah's former POWs were honored Friday for their service and sacrifice as part of National Former Prisoner of War Recognition Day. Most of the surviving POWs fought in World War II, but a handful survived torture, starvation, and solitary confinement in Korea and Vietnam.
There are 50 surviving former POWs in Utah. That's down from 80 just three years ago. Seven passed away in the past year.
Jay C. Hess of Farmington was among those honored. He flew more than 30 combat missions as an Air Force fighter pilot in Vietnam. He was shot down in August 1967 near the Chinese-North Vietnamese border. When he ejected from his plane, Hess hit the ground hard and was knocked unconscious as panels in his parachute were blown out.
He was captured and thrown into the "Hanoi Hilton" POW prison.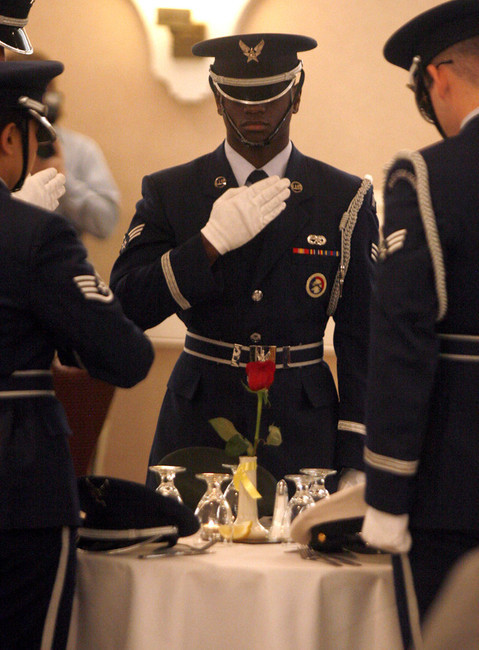 "(They would) tie your hands and arms behind your back and rotate them over your head and tie it to your feet in front," he said. It caused nerve damage, and it took six months to a year to recover from that kind of torture.
His faith helped him endure the harsh treatment. "You dream that you'll come home someday to that land you cherish," he said.
He kept that dream alive every day as he endured torture and starvation over 2,029 days: more than five years.
"I feel like I was a born-again American with a greater appreciation," he said. He has a greater appreciation for freedom, family and military friends.
"I don't live being a POW anymore," he said. "I'm celebrating my 40th year of freedom, and I appreciate that."
He said he also got a lot of support from the other POWs. "They were helping you, you were helping them," he said.
After he came home, he taught ROTC for 22 years at Clearfield High School. Hess said there are plans in the works for a 40th reunion with other Vietnam POWs next year.
April 9 is National Former Prisoner of War Recognition Day. It was April 9, 1942, when starving and exhausted U.S. forces at Bataan in the Philippines surrendered to the invading Japanese during World War II. Seventy-five thousand American and Filipino troops were forced to march 70 miles to a POW camp — an infamous trek that became known as the "Bataan Death March." More than 600 American soldiers died from maltreatment and murder; the rest faced years of brutal captivity.
While appreciating their freedom, some of former POWs at Friday's ceremony had their thoughts on Sgt. Bowe Bergdahl of Hailey, Idaho — the only current U.S. prisoner of war.
"It's heartbreaking," Hess said. "His situation, likely being alone, is very difficult. I hope he's the kind of guy that can handle it by himself."
The 26-year-old was taken prisoner in Afghanistan on June 30, 2009, and is being held by the Haqqani network, a Pakistani-based group with ties to the Taliban and al-Qaida.
Bergdahl grew up a few miles south of the resort town of Sun Valley, Idaho. He was a member of the 4th Brigade Combat Team in the 25th Infantry Division stationed at Fort Richardson, Alaska, at the time he was taken prisoner.
In a video his captors posted on YouTube in late February, Bowe said, "It's very unnerving to be prisoner." He appeared scared, upset and eager to come home.
"I have a very, very good family that I love back home, and I miss them every day that I'm gone," he said. "I miss them, and I'm afraid that I might never see them again, and that I'll never be able to tell them I love them again. I'll never be able to hug them."
According to recent reports, Bergdahl escaped in December only to be recaptured.
Several groups across the country have filed several petitions demanding Bergdahl's release.
Former POWs hope he will make it out alive. "The will to hang on, and never, never give up is built in us," Hess said.
Bergdahl's family's only hope of communication is the Internet. In a video posted on the Internet last May, his father, Bob Bergdahl, said, "I pray this video may be shown to our only son. God bless you. We love you. You are not forgotten. You are not forgotten."
Contributing: Viviane Vo-Duc and The Associated Press
×
Photos
Related Stories