Estimated read time: 3-4 minutes
This archived news story is available only for your personal, non-commercial use. Information in the story may be outdated or superseded by additional information. Reading or replaying the story in its archived form does not constitute a republication of the story.
MOAB — The line outside the Moab Valley Inn on Sunday included people clad in full cowboy garb, Native American men with their waist-length hair in traditional braids and dogs of every breed.
There was even a woman carrying a bullwhip.
"It's normally on fire," Melissa Strickland said, after cracking the whip during an open casting call for extras in Disney's remake of "The Lone Ranger."
The movie, which stars Armie Hammer in the title role and Johnny Depp as Tonto, is currently shooting in Albuquerque. Filming is slated to move to the Moab area in mid-July.
Depp's involvement in the project helped draw about 1,500 people to Moab for the one-day casting call. Directors with Los Angeles-based Sande Alessi Casting were looking for a broad range of body types and character traits, including men over 7 feet tall, individuals who weighed more than 400 pounds or were extremely thin, and those with "incredibly interesting character faces."
"The variety's been great," said Sande Alessi assistant Morgue N Marcus, halfway through the second casting session of the day.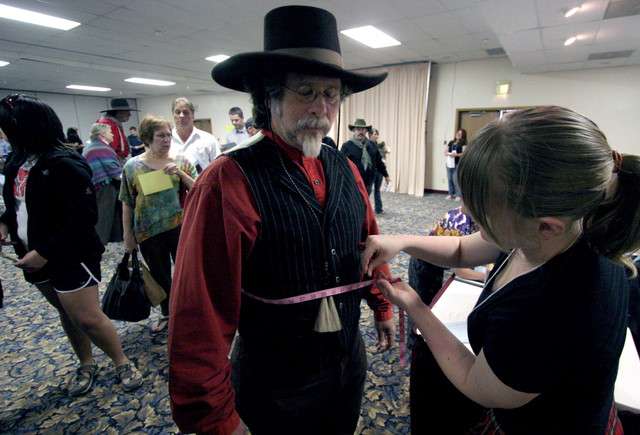 "I have seen a couple of tall guys. That's always good — really, really tall," Marcus said. "Any kind of diversity is great."
One of those "really, really tall guys" was 6-foot, 9-inch Bryce Prior, who brought along a prop no cowboy should leave home without.
"This here is Winchester," Prior said, standing next to the horse he rode through the motel parking lot early that morning.
The pair made the trip from Springville to Moab on short notice after a friend called Saturday night and told Prior: "They're doing a casting for 'The Lone Ranger' and they need tall and fat men and you qualify."
Casting directors were looking for short folks, too, and Paul Sweeting fit the bill.
"I'm five-four-and-a-half," the Grand Junction, Colo., man said.
Sweeting is no stranger to acting, with roles at The Bates Motel Haunted House and Hayride in Glen Mills, Pa., and in his church's presentation of "The Living Last Supper."
"That's where I'm James the Lesser — one of the Jameses that isn't well-known in Da Vinci's 'Last Supper' painting," Sweeting said.
Related:
And while some of the would-be extras at the open call had acting experience, others like Jeff Morris of Lyons, Colo., just looked like they did.
Morris, a National Park Service worker detailed to Canyonlands for the summer, bears a passing resemblance to Depp, which is something he's heard before.
"It was a long time ago, when I used to have long hair," Morris said. "No one's given me a second look today."
Sweeting, Morris and anyone else cast as an extra, probably won't make much money in the process. The mean wage of a basic film extra in Utah is $101.50 per day for a 12-hour day, plus meals, according to Utah Film Commission Director Marshall Moore.
"Some (films) go higher, some go lower," Moore said.
But Sweeting isn't deterred.
"I'd make it work," he said. "When it's something you love, you take the challenges and meet them head on."
"The Lone Ranger," which has a budget of $215 million, according to Variety, is being directed by Gore Verbinski, who directed the first three movies in "The Pirates of the Caribbean" franchise. It is scheduled to hit theaters May 31, 2013, according to a tweet from producer Jerry Bruckheimer.
×
Photos
Related stories
Most recent Utah stories