Estimated read time: 3-4 minutes
This archived news story is available only for your personal, non-commercial use. Information in the story may be outdated or superseded by additional information. Reading or replaying the story in its archived form does not constitute a republication of the story.
VERNAL — When people mention the word "boom" in Vernal, they're typically talking about the state of the oil and natural gas industry that drives the Uintah Basin's economy.
But a new kind of boom is under way, and it has folks like Kyle Ashworth dreaming big.
"With the opening of City Creek, which made big headlines in Salt Lake, the focus will now move east to the Uintah Basin, to Vernal, of all places in Utah," said Ashworth, a Realtor with Coldwell Banker Aspen Brook Realty.
---
With the opening of City Creek, which made big headlines in Salt Lake, the focus will now move east to the Uintah Basin, to Vernal, of all places in Utah.
–Kyle Ashworth, Realtor
---
City Creek Center — a $1.5 billion mixed-use development that features more than 80 stores and restaurants, along with office space and condominiums — opened March 22. It is expected to provide a huge economic shot in the arm for Salt Lake City.
Vernal City officials hope the same thing will happen when the much smaller Vernal Towne Center — the project Ashworth is working on with The Gardner Company — as well as other retail and commercial projects are completed in the coming year.
Allen Parker, assistant city manager and planning director, sees the projects as means of diversifying the area's economy, which will offset the "boom-bust cycle" that is commonplace due to the region's reliance on the energy industry.
"What we're looking for is something that will expand upon the development and utilization of natural resources," he said, noting that most of the new businesses coming to town are tied to major companies, "although we've had quite a few small-business owners start up here."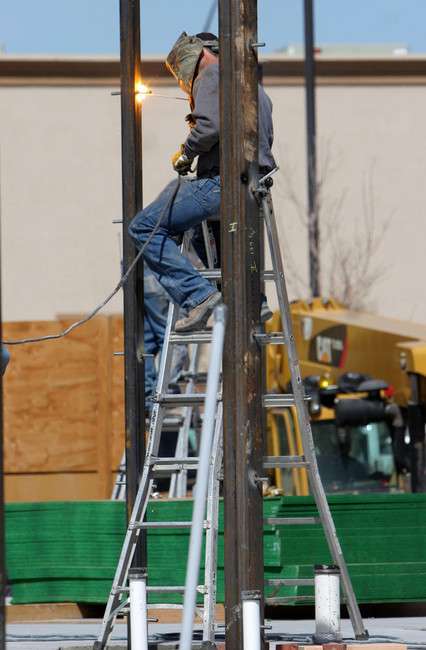 The new growth has led to a staggering increase in the amount of building permit fees the city has collected this year when compared with the fiscal years ending in 2010 and 2011, according to finance director Mike Davis.
In fiscal year 2008-09, the city collected approximately $216,000 in building permit fees. In the next two years, it collected roughly $46,000 and $70,000, respectively. As of Monday, the city had taken in about $238,000 in fees for the current fiscal year, which still has three months remaining, Davis said.
"It's important to remember that the construction season is just getting started here and the largest forecast projects haven't been applied for yet," Parker added.
The Gardner Company is the same firm behind The Gateway retail-residential-commercial development in Salt Lake and Redstone shopping center in Park City. It already has commitments for the 26-acre Vernal Towne Center from Dickey's Barbecue Pit, Jo-Ann Fabric & Craft, Petco, and Shoe Carnival, according to Ashworth. Negotiations are in the final stages with a major department store, a big-name sporting goods retailer, and at least four additional restaurants, he said, though he declined to name names.
"The secrets will remain safe, but the tenants are here," Ashworth said. "They're excited about coming to Vernal."
The development also includes space for a hotel, a bank, a gas station and a tire repair shop, he said.
The project's tenants will be latest in a string of new arrivals in Vernal that include national chains like Rue 21 and AutoZone. Parker said large retail companies have been hesitant in the past to set up shop in the city because of its small local population, but have come to understand that the city is an economic hub.
"We sit in a central location and the more this region develops, the more we draw from the surrounding regions to provide the shopping opportunities for all of those folks in communities that are too small to justify" a major retail center, Parker said.
The new offerings in Vernal are expected to draw shoppers from places as far away as Rock Springs and Green River, Wyo., and Craig and Rangely, Colo., according to Parker and Ashworth.
Ashworth acknowledged that he has heard some complaints from small-business owners about the arrival of big-box stores. But he pointed out that many people in the Uintah Basin already travel to Park City, Provo or Salt Lake spend their retail dollars.
"A lot of that money is going out there already," Ashworth said. "We want to reverse it, bring it back into the Uintah Basin and create an economic boom again for everybody."
Email:gliesik@ksl.com
×
Photos
Related stories
Most recent Utah stories