Estimated read time: 6-7 minutes
This archived news story is available only for your personal, non-commercial use. Information in the story may be outdated or superseded by additional information. Reading or replaying the story in its archived form does not constitute a republication of the story.
HOLLADAY — Rebecca Mills had just turned 16 when she became Jason Higgins' first victim.
She was raped at knifepoint in the alley of a church parking lot just two blocks from her Ogden home in 1996.
Higgins was sentenced two years later for raping her and seven other girls, mostly teenagers. The conviction brought a measure of relief to the teen. But even as Higgins was on his way to the Utah State Prison, Mills was about to begin a life sentence of her own.
The innocent 16-year-old girl was free-spirited and smart. She graduated from high school a year early and secured two scholarships. But she never used the scholarships and within a few years spiraled into drug abuse. She became a heroin junkie.
"I was so young at the time, I was just 16. I think for the first few years I was really trying to stay strong so my family wouldn't see how fragile I really was on the inside," Mills said Monday.
"I knew," interjected Mills' mother, Catherine Liston.
---
I just felt like my life had been stolen from me because I wasn't afraid before this happened. And now, ever since then, I'm still afraid of the dark, still afraid of everything, still afraid to be in the house alone. I feel he has stolen so much control over my life.
–Rebecca Mills
---
"I just felt like my life had been stolen from me because I wasn't afraid before this happened," Mills said. "And now, ever since then, I'm still afraid of the dark, still afraid of everything, still afraid to be in the house alone. I feel he has stolen so much control over my life.
"I felt so lost because nobody knew how I felt sometimes. I really just had too much on my mind to go to college and use my scholarships. … And I look back on that and think, 'Gosh, if that hadn't have happened, I had these two scholarships, I think I would have gone really far in life.'"
On Tuesday, Mills hopes to take the an important step in reclaiming her life.
Higgins, 39, will appear for his first parole hearing since he was ordered in 1998 to serve six prison terms of 15 years to life for nine rapes of eight girls between October 1996 and February 1997. Two of those sentences were ordered to run consecutively, essentially giving him a 30-years-to-life sentence.
Although Mills and Liston know that Higgins will not be granted parole Tuesday, they want the Utah Board of Pardons and Parole to know how his actions continue to hurt their family.
"What he did, he didn't kill her, thank God. But he killed the person that she was. He killed her soul … he broke her soul," Liston said of her daughter. "That's a permanent life sentence that will never go away. My heart is broken and it will never heal.
"I listen to her talk and I still fall apart because I just can't stand that somebody did this to her and how it has altered our lives," Liston said. "Where would we be today? What would we be doing? Would she be married and have a bunch of kids?"
Looking at a younger picture of herself on the table, Mills said she sees a person who was happy.
That changed in 1996 when she was attacked while walking home alone from a pep rally at Ben Lomond High School.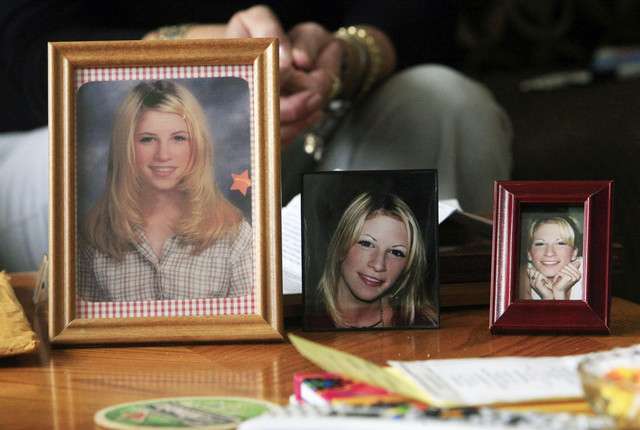 "I remember everything about that night. I thought I was going to die. When he let me go, it was like, 'Wow, I'm not going to die.' I just ran into the closest house I could see. They had their door open and I just ran inside and they called 911," Mills said.
"Right before he had grabbed me ,I had turned around because I heard a pebble on the ground. I said, 'Oh you scared me.' That's when he grabbed me. I got a really good look at his face."
Higgins didn't say a word to Mills before he grabbed her. She was the first of his victims and the girl who got the best look at her attacker. She helped police create a composite drawing of Higgins and she and her mother helped post flyers all over Ogden.
Right after the attack happened, Mills said she was afraid. But she mostly held her composure.
"I think I was just in shock then. I know I was afraid to take a shower even with my parents in the house because I didn't know if he was going to come back. I didn't know if he was watching me."
But as word spread through the school about what had happened, she started being harassed by some of the students. Mills transfered to Olympus High School and finished school a year early.
By the time she was 25, Mills could no longer handle what had been destroying her..
"I stayed strong for awhile. … But eventually, it caught up to me. I really didn't deal with it when I was younger. I got into drugs when I was probably 24-25, got into drugs really bad. It was the only thing that made me not think about it," she said.
There was a two-year period where Liston said she didn't even know where her daughter was.
"I didn't know if she was alive or dead somewhere. You can't imagine what that's like. Everytime the phone rings, you think it's going to be something horrible."
Sexual assault by the numbers
Every 45 seconds someone in the United States is sexually assaulted.
More than 61.5 percent of rapes are never reported to law enforcement.
More than 60 percent of rape victims are females under the age of 18.
One out of every 7 women currently in college has been raped.
Source: Crisis Connection
In Mills' own words: "It was as heavy a drug addiction as you can find."
One night in 2009, Liston got the call that she had feared. Her daughter was in the hospital and she needed to come quickly if she wanted to see her while she was still alive.
When Liston arrived, she didn't recognize her daughter who was 80 pounds and had intestinal failure because of her drug use. Her body had shut down. But doctors were able to save her. The near-death experience, she said, was actually a blessing because she started getting the help she needed. Mills, now 31, has been sober for two years and four months. She still goes to rehab to maintain her sobriety.
Both Mills and Liston have struggled over what they will say during Higgins' parole hearing Tuesday. Mills said she has been working on just the opening line of her speech for weeks.
"Where do you start when you tell this horrible person how much he's stolen, so much of my life, it's just too hard to put into words," she said.
"I'm hoping that (Tuesday) will be a way to say, 'OK, you stole 15 years of my life, but you're not going to control my life another minute.' … I want to look him in the eyes and let him know, 'You can't take any more power from me.'"
Mills said she wishes she had the strength of Utah's most famous survivor.
"I wish I could be as strong as Elizabeth Smart. I really do admire her. So hopefully I can be like her."
Likewise, her mother said she has gone through several versions of a speech ranging from an angry tone to a more subdued one. She tore up her first attempt at writing a speech, deciding, "I don't want to be that angry."
But the mother and daughter have a message for the Utah Board of Pardons and Parole:
"I got a life sentence. So did my mom, so did my family, so did all the other girls," Mills said.
Email:preavy@ksl.com
×
Photos
Related stories
Most recent Utah stories