Estimated read time: 7-8 minutes
This archived news story is available only for your personal, non-commercial use. Information in the story may be outdated or superseded by additional information. Reading or replaying the story in its archived form does not constitute a republication of the story.
SALT LAKE CITY -- On the surface, The Hunger Games seems to be a story about a strong young woman coming of age and saving the world at the same time - and who could complain about that kind of story and it's example of empowerment? But reading things a little closer, cracks emerge in the story that show it to be a fairly typical teen romance story with a stereotypical female lead behaving very much like you'd expect the angsty lead of Twilight to behave.
The buzz for the Hunger Games movie has reached a steady roar in the days approaching its March 23 release, with fans all in a tizzy and very little heard in the way of criticism of the movie, books or the main character, Katniss Everdeen.
The same thing cannot be said for the buzz surrounding Twilight releases, both the books and the movies. Despite fantastic popularity, the Twilight series' passive, overly feminine, overly romantic and depressive main character Bella had a strongly polarizing effect on readers, with some hating both the books/movies and the values Bella stood for, and some being deeply entertained by them. No review or comment on Twilight seemed complete without at least a hint of disdain on someone's part.
"Bella's overriding passivity is in distinct contrast to other fairytales for teen girls that have been popular in recent decades—in which the protagonists' encounters with magic open up much wider fields of play," said Alyssa Rosenberg of the Atlantic Monthly.
The same kind of polarization has not happened around the Hunger Games, whose main character, Katniss Everdeen, seems like the perfect antithesis to Bella. Katniss is strong as well as strong-willed, intelligent, almost emotionally cut off (perhaps her Achilles' heel), competent, self-sacrificing and needs no one to take care of her. But she nevertheless loves her family, culture and friends deeply.
Katniss seems like a much better role model for girls. But is that really the case? The short answer is "yes," but not by much and with lots of caveats.
What does Katniss actually spend a lot of her time doing? Why? And do we, the readers, want to encourage that behavior in her? Answering these questions shows a lot about how the Hunger Games may not be the best example. For those who know little about the books, spoilers will follow - be forewarned.
Katniss' sister is chosen to participate in a fight to the death for the amusement of a decadent and dictatorial Capitol. Katniss bravely and nobly volunteers to fill in for her sister and fight to the death in her stead as tribute, a wonderful example of self-sacrifice and love.
However, before she even gets to the Capitol, she is immediately treated simultaneously like a child and a trophy. Her trainer, Haymitch, and the other tribute, Peeta, immediately start hatching a plan to keep her safe - without her knowledge. She eats lots of rich food, described in detail, and then mopes around in her fancy accommodations.
Once in the Capital there is…more moping, more food, more plotting which she is unaware of, and to top it all off, she gets her own personal fashion designer and makeover team. She proceeds to play dress-up for several days, gets interviewed on TV multiple times, goes to parties and generally has what could be described as a pretty good time if she were a young eligible debutante, which for all intents and purposes she is. Her charms win over the entire Capitol and the Districts.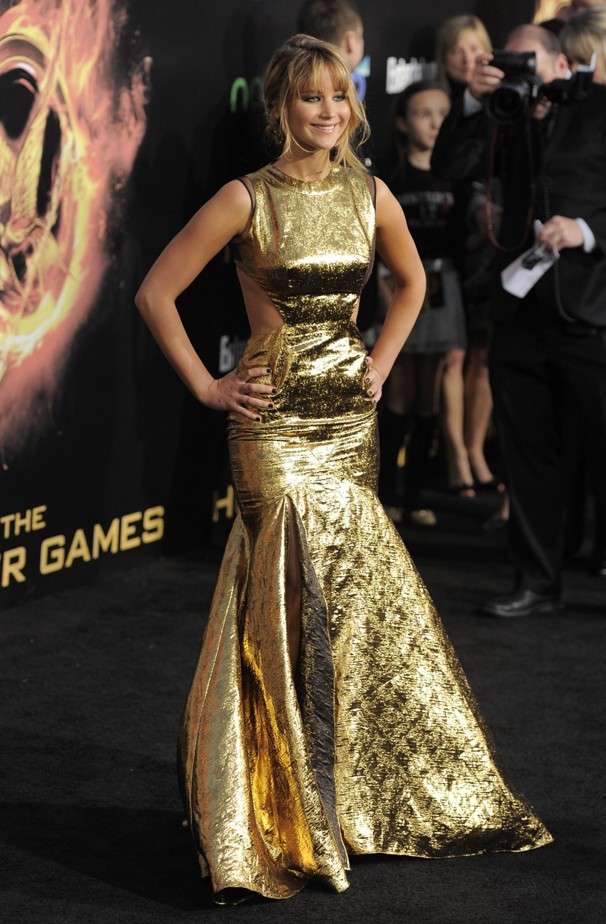 So far, this sounds a lot like the common and heavily criticized stereotype of femininity and the worship of female youth and beauty.
Deep down, she isn't a debutant, and she doesn't seem to much enjoy acting like one. But that's not the point - the point is she nevertheless does all these things that all of them are absolutely critical. She can't save her own life in the Games if she doesn't do these things. She can't provide for her family if she doesn't do these things. Even though she must use her skills, knowledge, guts and strength in the arena to survive, putting on at least the guise of a spoiled teen is just as important to her and her family's survival, which seems to indicate that it is just as necessary and useful as her more admirable qualities.
She is bound by the social forces around her to act like a proper Capitol young lady in order to maintain mere survival. Many of the things that make her a better role model than Bella - her selflessness, kindness, independence - actually become liabilities.
Bella, on the other hand, does many things against both her own and everyone else's better judgment, like falling in love with a vampire, jumping off of motorcycles and cliffs, and generally becoming a depressive, whiney teenager. But nothing really depends on this. It's not important for her to act this way, except outside of her own emotions. But only in Katniss' case can it be said it's important for her to continue along the path of what you might call typical teen syndrome. Moreover, readers may want Bella to stop acting like she does and just get over it and make a decision, but readers want Katniss to continue dressing up, eating out and being famous because that's what's necessary.
Bizarrely, we find ourselves on the side of rooting on the very behavior that isn't really part of Katniss' personality or even a particularly good example.
Moreover, the Hunger Games seems to be sending a particular kind of message: It's possible to change the world, to make things better, but only if you have a cute, fashion-centric and cleverly constructed media campaign. What changes the world? Looking good for the masses. Winning their hearts with an unrequited love story, a few quips and propaganda pieces, and a cool looking uniform.
Now it must be acknowledged that a lot of other stuff is going on in the novel, there are a lot of other people sacrificing themselves and fighting hard for what they know to be right. But they virtually all do it under the banner of Katniss, because she, as a symbol rather than a person, is important. She is entertainment for the Capitol and hope for the districts. She is also consistently used by those around her for their own purposes, like a tool or a pawn, though she simultaneously decries being used as a tool, at least in the cases that she's aware of it. This kind of passivity even while it appears that she is active and decisive, is just as bad as the passivity that Bella exhibits - waiting to be saved by one or the other of the uber-masculine mobsters to which she feels attached. At least we know Bella is passive, but it's easy to be fooled and forget that Katniss is as well.
"In some ways, Katniss is more passive than Bella, allowed to have all kinds of goodies but only if she demonstrates her virtue by not really wanting them in the first place," said Laura Miller in a comparison piece at Salon.
It's true that The Hunger Games doesn't exhibit the same kind of weird and constant sexuality that the Twilight series does, and that is to be praised and perhaps is the area that really makes the Hunger Games stand ahead of Twilight.
According to Bistoc03, a commenter on ksl.com, "What could a man with 100 years of experience in the world, and who has multiple graduate degrees (Edward, Bella's love interest), possibly see in a brooding, moody teenager? His attraction was based in his INABILITY to read her mind and his barely-controllable urge to murder her."
That's a strange foundation for a relationship. In Katniss' case, her relationships with Peeta and Gale are based on either a deep mutual trust in the case of Gale, or kindness in the case of Peeta. That's probably a much better example for young women and dating a 100-year-old.
All in all close look at Katniss' story and actions shows that The Hunger Games probably provides a slightly better example than Twilight, but by how much is unclear. Not only does she engage in the same kind of passive, indecisive, girly, over-the-top behavior that Bella does, but those things are elevated to the level of saving the world and liberating perhaps millions of people from an oppressive government.
Does anyone really think playing dress-up is that powerful of a tool?
×
Related links
Related stories
Most recent Features stories