Estimated read time: 2-3 minutes
This archived news story is available only for your personal, non-commercial use. Information in the story may be outdated or superseded by additional information. Reading or replaying the story in its archived form does not constitute a republication of the story.
Carole Mikita Reporting A Utah company has completed a piece of architecture that will grace a Washington, D.C. Methodist church. The church steeple links people of different faiths.
The final coats of paint and the finishing touches go on a piece that will complete a landmark in the nation's capitol.
Metropolitan Memorial, the National Church of Methodism, has been without its steeple since 1996. It deteriorated and was removed.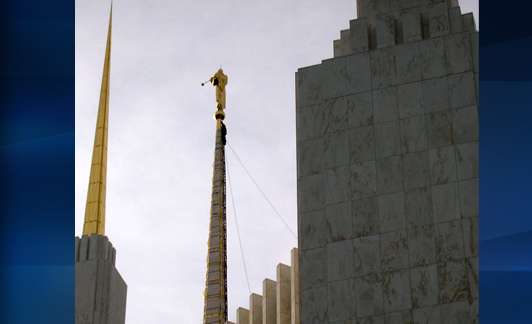 The beautiful interior is known as a sanctuary for strangers, as well as a place for presidents. The original church was dedicated in 1869; a second one in 1930. There is always one pew kept for the president and his Cabinet members.
Today's congregation raised the money for a new steeple. Don Williams, with Unlimited Designs, Inc., says, "When that rolls into town, and they see it, you want it to be everything they hoped it would be, 'cause this is something they've been working on for a long time."
Several years ago, Unlimited Designs created a steeple for Calvary Baptist Church, another Washington, D.C. landmark.
Last spring, the company created new spires for the Washington, D.C. temple of The Church of Jesus Christ of Latter-day Saints.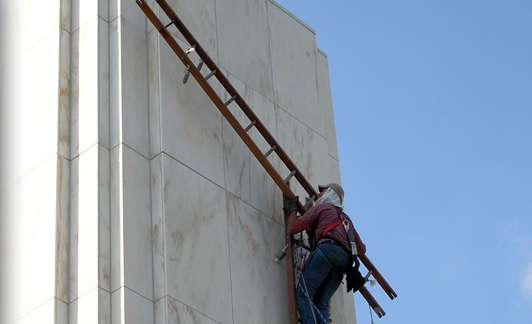 It took 2 ½ years to design and three months to manufacture. The steeple is 75 feet tall with the cross attached, at the base it's 9 feet wide. It weighs 4,000 pounds.
Don Williams says one of the most enjoyable parts of this work is that people of different faiths come together, get to know one another and share spiritual experiences.
"This has a deep religious and spiritual meaning to them, and you become close to them by your association in making that happen, and that's really the fun part of it. They're wonderful people."
Steeples signify a place of worship, the idea of reaching toward God. The workers say for that reason, it is a labor of love.
The steeple was loaded onto a semi truck this evening and will move along the freeway to Washington, D.C. tomorrow. It will take about a week to get there.
×
Most recent Utah stories