Estimated read time: 3-4 minutes
This archived news story is available only for your personal, non-commercial use. Information in the story may be outdated or superseded by additional information. Reading or replaying the story in its archived form does not constitute a republication of the story.
SALT LAKE CITY — Six-year-old Ambrosia Amalatitoda, who was hit while crossing State Street in a crosswalk with her mother, died late Thursday afternoon at Primary Children's Medical Center.
Family members had known the girl was not going to survive her injuries, but she was being kept on life support until her mother sufficiently recovered from her own injuries to say goodbye.
That did not happen.
"She didn't get to say goodbye," said hospital spokeswoman Kate Crawford. "But there was a lot of family members there with her," when the girl died.
The girl's family decided to donate her organs, so while she is officially brain dead, her body was being maintained on life support until that can happen, Crawford added.
Amalatitoda died as a result of head injuries suffered when she and her mother, Natalie Randall, were struck by a car that failed to stop for the pedestrians at the crosswalk. The intersection is not controlled by traffic lights.
---
We had our baby with us, and now she's not with us anymore.
–Mckenna Lindsey, girl's aunt
---
#lindsey_quote
"She's just got a lot of head trauma. Severe, severe head trauma," said Kerri Ramseyer, the girl's step- grandmother.
Mckenna Lindsey — Ambrosia's aunt — is still trying to come to terms with what happened Wednesday afternoon.
"We had our baby with us, and now she's not with us anymore," Lindsey said, wiping away tears.
Ambrosia and her mother were heading home from Whittier Elementary School on Wednesday before the accident happened. It had been a good day for the 6-year-old at school. She was making huge improvements in her reading, and her mother wanted to get her a treat.
While crossing the street, the car hit them. Witnesses say two cars stopped to let the mother and daughter cross, but a third seemed to lose control and swerve.
The driver of the car was escorted away and taken to the police station for questioning Wednesday. Police say the accident is still under investigation.
"I don't know if it was a swerve around to avoid an accident, or what initially made them do that maneuver," said Salt Lake City police detective Josh Ashdown.
Randall underwent surgery Thursday morning and is expected to recover but remains in critical condition, according to a hospital spokesperson.
But Ambrosia had received the brunt of the impact.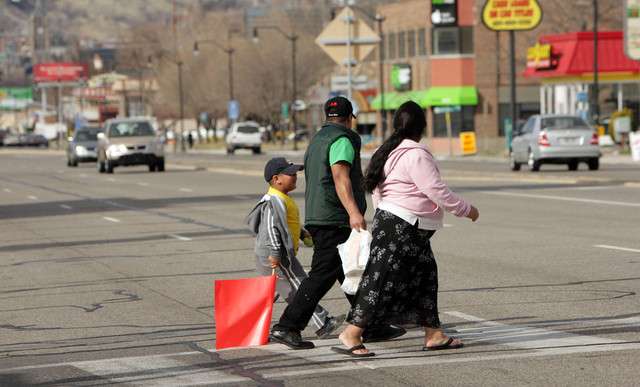 Now, the family wants to know why this had to happen. They feel like more should be done to improve the safety of the road.
"It's a horrible crosswalk. They should have a (traffic) light there. They just have lines on the road, and that's not enough," Lindsey said. "My family has to pay for that, for the city not having lights there."
The Utah Department of Transportation is responsible for the crossing since State Street is a designated highway. UDOT spokesman Adan Carrillo said a light is to be installed at the intersection this summer.
"This intersection has been in our plans as far as making improvements to it," Carrillo said.
Margery Parker, principal at Whittier Elementary, hopes another tragedy won't occur before the improvements.
"It's so dangerous. We've had near-misses with students before," she said. " We remind parents, we remind students, yet people keep crossing there."
For now, Lindsey and the rest of the family are holding on to the memories they have of the young girl they say loved everyone.
"She was so bubbly and happy all the time, always complimenting people and hugging them and dancing like crazy," Lindsey said. "She was definitely the life of the room when she walked in."
Contributing: Ladd Brubaker and Mike Anderson
Email: akewish@ksl.com
×
Photos
Related stories
Most recent Utah stories