Estimated read time: 3-4 minutes
This archived news story is available only for your personal, non-commercial use. Information in the story may be outdated or superseded by additional information. Reading or replaying the story in its archived form does not constitute a republication of the story.
SALT LAKE CITY -- When maintenance supervisor Le Vongsayo reached into a hole in the wall and pulled out a metal box, he had no idea he was unveiling a fascinating story that stretched back 50 years and involved a closed bank, a 12-year-old girl and a time capsule.
It all started in an old 8-story building on the corner of Main Street and First South in Salt Lake City. It was built in 1893.
Robert Crandall bought the building in 1955. His name is over the main entrance, and all these years he's leased out the office space.
In 1959, he leased the main floor to First Federal Savings Bank. To celebrate the grand opening, Bank President M.L. Dye, wanted a time capsule, filled with various items of the day, placed in a wall, to be opened in the year 2000.
First Federal Savings Bank moved out of this building in the '80's and was eventually acquired by another financial institution. But they forgot all about the time capsule.That is, until a few weeks ago.
Robert Crandall decided to have the old bank space remodeled, and that involves removing old brick from the exterior of the building. One of his employees discovered a metal box in a hole in the wall.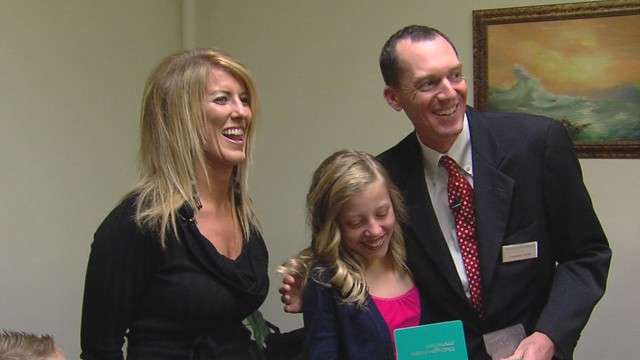 "I kept walking back and forth and I noticed a box right here and I thought it was a circuit breaker, but there were no pipes coming in," said Le Vongsayo, the Crandall Building maintenance supervisor. "So I pulled the thing out and the whole thing came out."
The time capsule contained copies of the Salt Lake Tribune and Deseret News, with intriguing headlines from November 1959.
All of the contents have fire damage, though no one knows about any fires back then.
There's a photo of the bank's staff along with 12 letters written by the major "movers and shakers of Salt Lake City at the time. Bank President Dye asked each of them to predict how life would be at the turn of the century.
University of Utah President A. Ray Olpin wrote about television, saying they would be flat panels that people could hang on the wall in every room of the house.
And newspapers?
"Mr. Peterson with newspaper agency corporation predicted that newspapers would be transmitted electronically into people's homes," said Mary Crandall Naegle.
The time capsule also contained a First Federal savings account passbook with $50 in it to be given to the first baby born in Utah in the year 2000. Today, that's $50, plus more than 50 years of interest.
We tracked down the first baby born in 2000: Her name is Brinlee Millenia Shepard, and is 12 years old now. She and her family came to the Crandall Building to check out the hole in the wall where the time capsule was hidden all those years
Inside, they got to see the contents of the capsule, and received that savings account passbook.
But the big question is whether or not the savings account is still open.
KSL did some research and learned that Washington Federal Savings, based in Seattle, and with offices in Salt Lake City, acquired First Federal Savings in 1993.
Though, Washington Federal couldn't trace the original account number on the passbook in its files, the company willingly honored it. several employees from the Salt Lake branch, including some who worked at the old First Federal, wanted to meet Brinlee and her family and, give her the surprise.
Jonathan Oettli with Washington Federal Savings presented her with the account, now worth about $1000 dollars, and welcomed her to the Washington Federal family.
Perhaps a bit overwhelming for a 12-year old, who never imagined that long before she was born, a group of bank employees wanted to honor her, in a special way.
We're guessing, Brinlee will be a customer of Washington Federal for many years to come.
×
Photos
Related links
Most recent Utah stories