Estimated read time: 2-3 minutes
This archived news story is available only for your personal, non-commercial use. Information in the story may be outdated or superseded by additional information. Reading or replaying the story in its archived form does not constitute a republication of the story.
Lori Prichard Reporting While Sherman Lynch sits in jail tonight, accused of murdering his wife, Lynch's children are shocked to think that their father could have anything to do with this.
If you stop and think for a second about how you feel about your own parents, then you can kind of begin to understand the confusion his four children are going through. They're good kids and they just don't even know what to make of all this.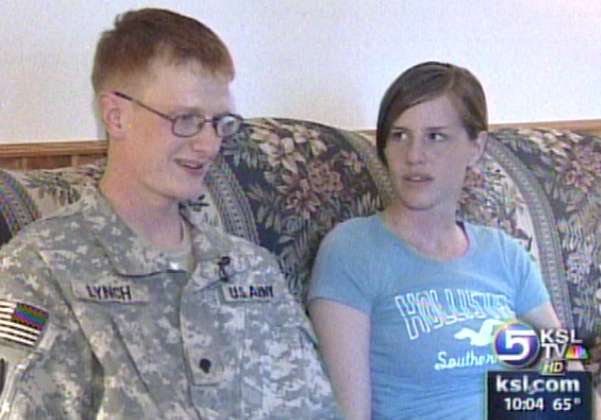 In family photos, Sherman Lynch looks like any proud father happily playing with his kids. He has four children from a previous marriage. Two decided to talk to with KSL for the first time.
Jason Lynch, Sherman's son, says his father always taught him to "do the right thing, no matter what it is."
On leave from Iraq for his step-mother's funeral, Jason says his dad was someone he could be proud of.
"He's been really supportive, and he's been a really honest guy. I've trusted him all my life," Jason said. He added, "He got me through scouting. I got my Eagle Scout because of him."
Nineteen-year-old Shauna Lynch says camping trips are some of her favorite family memories. "Every summer like forever, every year when we were kids we'd drive out to Oregon, and we'd spend a month or so there."
The family trips stopped after Lynch and his ex-wife divorced 14 years ago, but Shauna says her dad still made time for them.
"We live with our mom so he only got to see us so often, but he loved us and treasured his time with us," she says.
Jason says it was enough time to learn he wanted to be like his dad, a Navy veteran. "I joined the military. I looked at all the things he had done, and I thought, 'Wow, I want to do that too,'" he said.
Jason has talked to his dad since he's been arrested. He says his dad wanted to hear about Iraq. "Everything I told him about Iraq he said, 'Oh, that's awesome Jason. I'm so proud of you.'"
That pride is something these kids still yearn for, shocked that their father is accused of such a heinous crime.
We do know that Sherman Lynch served as an adult leader with the Boy Scouts of America. The Boy Scouts revoked Lynch's membership this morning. Meanwhile, Lynch is still employed as a medical instrument technician in the dialysis section at the Veteran's Administration Medical Center in Salt Lake.
×
Most recent Utah stories