Estimated read time: 2-3 minutes
This archived news story is available only for your personal, non-commercial use. Information in the story may be outdated or superseded by additional information. Reading or replaying the story in its archived form does not constitute a republication of the story.
Whit Johnson ReportingThe journey of a lifetime for a cocker spaniel named Rocky is about to come to an end.
He had been missing for months, traveled hundreds of miles, crossed state lines and time zones. But now Rocky is about to be reunited with his family in Ogden.
Stories of extraordinary pets have been told many times before, often in movies. But outside Hollywood, the stories often leave more mystery than answers.
"He was just gone," said Rocky's owner, Becky Candia. "That's what's so weird. He was just gone."
Becky says Rocky is a very loving animal. "Mild mannered little guy. Very cute," she told us.
Rocky's incredible journey began in Ogden, Utah, where he would play in a yard behind the place Becky works.
"We'd tug-of-war with him," Becky said.
Throughout the day Rocky would spend most of his time tied to a tree. But sometime last October, Becky came out to check on him, and Rocky was nowhere to be found.
"I thought that maybe he'd gotten off the leash. I checked a few places to see if he'd been turned in or anything, but he hadn't been," Becky said.
After nearly four months, Becky got a call from a woman in San Diego. Rocky was there -- tags and all.
"I said, 'Right on,' you know. Yeah! We want Rocky back," Becky said.
But the woman stopped calling, and Rocky's travel plans fell through.
"It was so close to getting the dog home," Becky said.
After that, nearly eight more months went by. Then last week Becky got yet another phone call.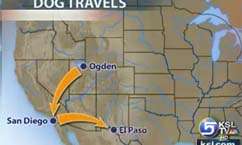 "They located him. He says, 'The only bad news is he's in El Paso,' and I said, 'Where?'" Becky said.
El Paso, Texas. Once again Rocky was found, this time by a married couple who wants nothing more than to help Rocky get back to Utah.
"He's just a very, very good dog, so I can see why everybody has kept him," said the woman who found him, Colleen Salgado.
His journey took him through several states, more than 1,500 miles. It spanned the course of a year, or seven in dog years.
"I think it's great," Becky said. "We're happy to have him. We can hardly wait. It will kind of put things back in place."
Plans are still being worked out to bring Rocky back to Ogden. Nobody really knows for sure how Rocky worked his way across the country, but Becky suspects he probably made some friends who helped him.
×
Most recent Utah stories