OREM — One by one, work crews removed the letters that once spelled out Nordstrom, as the store which was an anchor of University Mall in Orem, closed for good on Friday.
Now the Orem mall has two major vacancies of anchor tenants. Mervyn's went out of business more than two years ago.
Nordstrom announced at the end of last year that it would close its Orem store, not because it was losing money, but because the high-end retailer said it had never performed as expected.
There was no going out of business sale; rather the merchandise is being moved to the new store in City Creek Center. Employees were offered positions at other stores.
---
We asked them, 'You are profitable?' And they said, 'Because we've made a business decision to consolidate and move to the Salt Lake downtown area.
–Orem Mayor Jim Evans
---
Former customer Neisah Satterfield said, "I'm really sad about it. I actually shopped there a lot, and I think it's one of the higher end places here, and so it's sad it's going out."
Brandon Bennett stopped by Nordstrom occasionally, but was caught off guard that the store was closing. "I was kind of surprised because they are a pretty big store and have good customer service. But I didn't go a ton, so it's not going to affect me." he said.
Rob Kallas, the manager of University Mall, said efforts have been under way for weeks to find a replacement for Nordstrom. But so far nothing is finalized and now a second large space at the mall is sitting vacant.
"I'm very confident we will find another tenant soon." Kallas said. "But we're not ready to make any announcements yet."
Orem leaders worked hard to bring Nordstrom to town 10 years ago in an effort to revitalize the mall, at a time tenants were being recruited to move to the new Provo Towne Center Mall.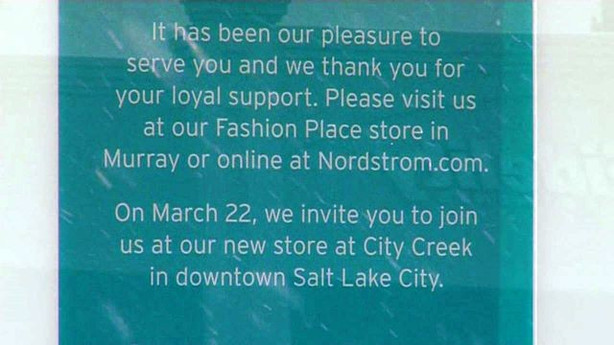 "Disappointed," is how Orem Mayor Jim Evans described the departure. "They've been such a great business for our community."
"We asked them, 'You are profitable?' And they said, 'Because we've made a business decision to consolidate and move to the Salt Lake downtown area," Mayor Evans said.
Regular customers of Nordstrom now are wondering where to take their business.
Nick Nelson said, "Find somewhere else to go; to Provo, that's all we really can do."
The Provo Towne Center is also losing one of its anchor tenants.
Provo Mayor John Curtis said, "We're all sad to lose Sears. Sears has been a part of Provo for many years."
Unlike Nordstrom, Sears will close as part of a property sale with the owner of the mall, General Growth Properties. Eleven Sears stores will close nationwide.
Along with the store in Provo, the Sears in Murray will also shut down. Both stores, however, are expected to remain in operation until sometime in 2013.
"This was their decision, and they clearly have a plan and vision of what they'd like to have happen here. And we know these other stores do very well; this is a good place for retail development in our city, so we think we'll get something good," Mayor Curtis said.
Mayor Evans says Orem is working with several businesses about opening stores in his city, specifically along University Parkway. He is optimistic Orem will remain a major player for retail in Utah County.
"We're still very excited about the future," the Orem mayor said.
The new Nordstrom location at City Creek Center in Salt Lake will open on March 22nd.
×
Photos