Estimated read time: 4-5 minutes
This archived news story is available only for your personal, non-commercial use. Information in the story may be outdated or superseded by additional information. Reading or replaying the story in its archived form does not constitute a republication of the story.
WEST VALLEY CITY — Hiram Bertoch lives just a few blocks from the West Valley home Susan Cox Powell once shared with her husband and two sons.
Bertoch's children attended the same preschool as the Powell boys, Charlie and Braden.
He's followed the family's tragic story closely since December 2009, when Susan went missing, and the ensuing allegations that her husband, Josh, was responsible.
And Bertoch was stunned and saddened when he learned that Josh had killed the boys and himself in a gas-fueled fire near Puyallup, Wash., on Feb. 5.
---
To have a place where you can go and reflect and just mourn, we felt, as a cemetery, that was important and something we could offer.
–Hiram Bertoch, Pleasant Green Cemetery
---
#bertoch_quote
"As neighbors and as a community, I think we're all deeply affected by it," he said. "There's been a lot of pain. There's a real need for everyone to heal."
Today, Bertoch finds himself in a position to help with that healing. As president of the nonprofit Pleasant Green Cemetery in Magna, he's offered to donate a 15-by-15-foot plot of land for construction of a memorial to honor Susan, Charlie and Braden.
"To have a place where you can go and reflect and just mourn, we felt, as a cemetery, that was important and something we could offer," Bertoch said.
West Valley City Mayor Mike Winder announced plans Tuesday night for the memorial to be constructed to honor and remember the West Valley mother and her sons.
"As we talk about how we heal as a community, a memorial like that is so appropriate — not only for West Valley City but for the larger community," Winder said.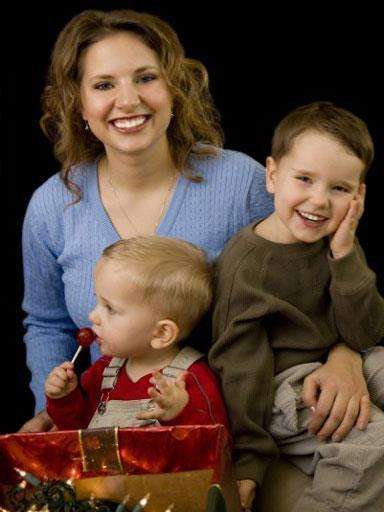 The yet-to-be-designed bronze sculpture will be positioned at the entrance of the cemetery on foothills of the Oquirrh Mountains, overlooking the Salt Lake Valley, Bertoch said.
Kearns sculptor Stan Watts has agreed to donate his time and talents to the project. Funds are being raised to pay for the materials, said Kiirsi Hellewell, who is heading up the fundraising effort.
Hellewell, a longtime friend of Susan Powell, said she looks forward to having a place to go and remember Susan.
"The last two weeks, I've really been feeling so sad over what Josh did and how those little boys died," she said. "Instead of thinking about that, it's wonderful to think about something really uplifting, something of Susan, maybe a statue of her with her arms around her boys, and just being able to go there and sit there and remember all the good times."
The Pleasant Green Cemetery is the resting place of many early Utahns who settled on the west side of the Jordan River. It's maintained by family members of those laid to rest there and uses volunteers to dig and attend to graves, Bertoch said.
Bertoch said he and the other board members who oversee the cemetery began looking for ways to help Susan's father, Chuck Cox, when Josh Powell's family announced they wanted to see Josh buried near his sons.
"That just broke my heart," he said.
The Powell family soon after decide against burying Josh next to his sons.
The cemetery board first planned to make available burial plots for Charlie and Braden in the event the boys needed to be moved from the cemetery. But the board decided that didn't go far enough.
Related:
"We decided that we should set aside a significant portion of land in our cemetery … where we could put a memorial for Susan and her boys," Bertoch said.
The board reached out to Hellewell about a week ago through her LDS bishop.
"I thought it was a wonderful idea," she said. "A lot of people in Utah have told me how badly they wished they could have gone up to Washington (for Charlie and Braden's funeral), and I knew that so many people would love to have a place where they could physically go and remember Susan."
The idea still is "very preliminary," Hellewell said, and it's unknown how much money will need to be raised.
Those who are interested in contributing to the project can make donations to the Susan Powell Memorial Fund* at all Cyprus Credit Union locations.
----
Contribuiting:Jennifer Stagg
**ksl.com has not verified the accuracy of the information provided with respect to the account nor does ksl.com assure that the monies deposited to the account will be applied for the benefit of the persons named as beneficiaries. If you are considering a deposit to the account you should consult your own advisors and otherwise proceed at your own risk.
×
Related Stories