Estimated read time: 3-4 minutes
This archived news story is available only for your personal, non-commercial use. Information in the story may be outdated or superseded by additional information. Reading or replaying the story in its archived form does not constitute a republication of the story.
ROOSEVELT — When an earthquake and tsunami devastated Japan with a one-two punch in March 2011, Chris Dye began looking for a way to help.
Two of her sons served missions in Japan for The Church of Jesus Christ of Latter-day Saints, and Dye and her husband spent 10 days touring the country at the conclusion of one son's mission.
"We fell in love with the Japanese people," she said, adding that after the twin natural disasters, "I thought, 'Is there any way we can just personally help them?'"
Dye teaches art at Roosevelt Junior High School and decided in April 2011 to teach her students to fold origami cranes. The idea came from the book "Sadako and the Thousand Paper Cranes" — the story of Sadako Sasaki, a young girl who died of leukemia after being exposed to radiation when the atomic bomb was dropped on Hiroshima.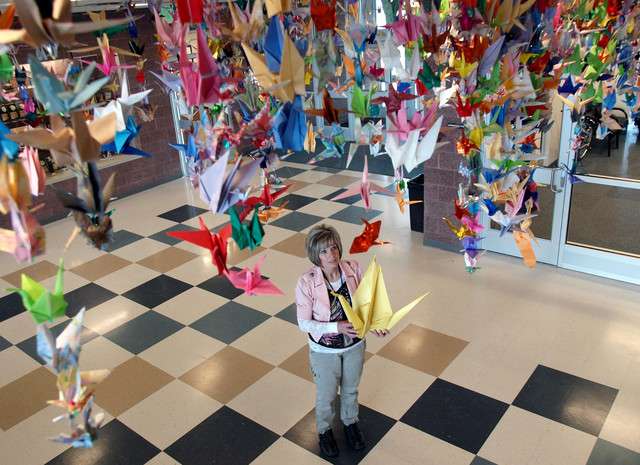 Sasaki believed a Japanese legend that said if she could fold 1,000 origami cranes, her health would be restored. She folded 644 before her death, according to one version of the story.
Family and friends folded the remaining 356 cranes, sparking a tradition that has people from around the globe sending strands of the paper birds to the Hiroshima Peace Memorial Museum in Sasaki's honor.
"Originally, the idea was to fold 1,000 paper cranes," Dye said. "But by the second day, I had kids coming to my classroom asking, 'Can you give me more origami paper?'"
Two weeks later, students had exceeded their goal and folded more than 2,500 cranes.
"I couldn't stop them," Dye said. "They were folding every little piece of paper they could find. They were folding up some of their homework."
"It felt really good that I was actually doing something to help someone," said eighth-grader Kaytlynn Hackford, who learned the art of origami with relative ease during last year's project.
But Dye and her students weren't content just to send the cranes to Japan for display. They asked the community to donate $1 for each paper bird.
"I wasn't sure if people would donate," eighth-grader Nakay Winterton said, "but they surprised me and they actually did donate."
The project collected more than $2,500. The money could have gone to an organization like the Red Cross, but Dye said the students wanted it to go "right to the people who were hit hardest by the disaster."
---
I wasn't sure if people would donate, but they surprised me and they actually did donate.
–Nakay Winterton, eighth-grader
---
#winterton_quote
So the class reached out to an LDS missionary from Roosevelt serving in Japan. He put them in touch with Bill Albrecht, president of the church's Japan Toyko Mission, who agreed to accept the students' money and find a project that helped Japanese kids.
The money, Albrecht wrote in a recent letter to Dye, will be used to help buy a practice machine for the table tennis team at Kitakami Middle School. Table tennis, he wrote, is "the most popular activity among (Japanese) students" and the new machine will give the kids an opportunity to do something they enjoy.
"Your gifts will heal many wounds of children who have lost everything, including brothers and sisters and parents," Albrecht wrote.
The cranes folded by Dye's students didn't just earn money for their peers in Japan. Clothing giant OshKosh B'Gosh said it would donate one piece of clothing to the relief effort for every paper crane made in the weeks after the quake and tsunami.
"We sent in a photo of our cranes, and we were able to get 2,500 pieces of clothing sent to Japan, too," Dye said. "So our cranes ended up being a lot of help to the Japanese people. It was awesome."
Email: gliesik@ksl.com
×
Related stories
Most recent Utah stories