Estimated read time: 2-3 minutes
This archived news story is available only for your personal, non-commercial use. Information in the story may be outdated or superseded by additional information. Reading or replaying the story in its archived form does not constitute a republication of the story.
KESANNUMA, Japan — Almost 100 days ago, Japan shook under the force of its most powerful earthquake ever recorded, and a devastating tsunami followed. For people along a 300-mile stretch of coastline, life is still far from normal.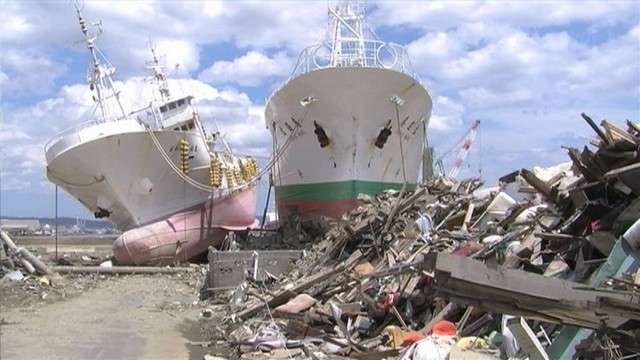 What we have seen here is a vivid reminder of just how short the news cycle's attention span is. Japan's suffering made headlines in the states for two or three weeks, and then the spotlight moved on to other topics.
Remember the pictures from March that showed a fishing village drown. This is Kesannuma today.
Yoshiki Yumiko was in her house when the ground shook. And when the sirens began to blare, she struggled to make her way up the hill to higher ground. She has not gone back.
She says she has no idea where her house is. It was washed away. "If I went back," she said. "I wouldn't know where to find it."
As overpowering as the sight of Kesennuma's wreckage is Kesennuma's smell — the smell of sludge, and even death.
In other cities on the coast, Ishinomake and Higashi Matsushima, the devastation is beyond belief.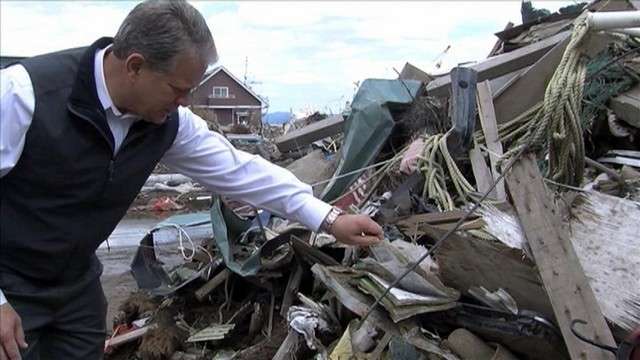 The casualty numbers today from the March quake, and mostly the tsumani that followed, are staggering. More than 500,000 homes are damaged or destroyed; 91,000 people are still living in evacuation centers. More than 15,000 people have been confirmed dead, plus another 8,000 are still missing.
You can count little Haruno Koizumi lucky, even though she is living in a tent in an evacuation center. She told us her house was washed away. Some of it was OK — the second floor — but the rest of it was washed away.
It's down in the rubble where the tsumani gets personal. We found a notebook, a tube of toothpaste, a dress on a hanger, and a shoe on the ground. They're remnants of people's lives: people who lived here; people who died.
And then the intrusions that are clearly out of place, like ships in the middle of a once-upscale neighborhood.
The life of these Japanese coastal cities and villages used to be the fishing fleets that brought in the daily catch. Their plight has become the focus of a humanitarian outreach of The Church of Jesus Christ of Latter-day Saints.
This week, a top LDS Church leader is scheduled to make a presentation that will enable a group of fishermen to finally return to their livelihood on the sea. KSL News will be there for the ceremony and will bring you the story Thursday night on KSL 5 News at 10.
Email: blindsay@ksl.com
×
Photos