Estimated read time: 3-4 minutes
This archived news story is available only for your personal, non-commercial use. Information in the story may be outdated or superseded by additional information. Reading or replaying the story in its archived form does not constitute a republication of the story.
(AP Photo/Douglas C. Pizac)
VIDEO and AUDIO: Watch or Listen to Archived Sessions of General Conference
Carole Mikita Reporting
Gordon B. Hinckley, president of The Church of Jesus Christ of Latter-day Saints, told church members Sunday they have become a large family scattered not only throughout America but across the earth.
"Today we have become the fourth or fifth largest church in North America, with congregations in every city of any consequence," he said.
During Sunday's sessions of the church's semiannual General Conference, President Hinckley said there are now more than 13 million church members in 176 nations and territories.
Church members also heard from their new leaders today. President Henry B. Eyring, the new member of the First Presidency, spoke first this morning. He urged Latter-day Saints to write a few lines every day so they and their children can remember how God has blessed their lives.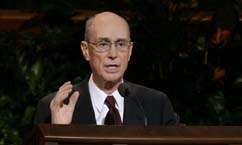 "I would see evidence of what God had done for one of us that I had not recognized in the busy moments of the day," he said.
President Eyring opened his remarks Sunday by recalling James E. Faust, the late second counselor in the First Presidency. President Faust, known for his warmth, kindness and wisdom, died in August at age 87.
"I always thought that when I grew up I wanted to be like President Faust ... There may still be time," President Eyring said, drawing a laugh from those gathered in the faith's 21,000-seat downtown conference center.
The new member of the Quorum of the Twelve Apostles, Elder Quentin L. Cook, expressed his feelings about this assignment. "The overwhelming feeling that I have in receiving this call is that we must live by faith and not by fear," he said.
President Hinckley talked of Church growth on every continent.
"And this is only the beginning. This work will continue to grow and prosper and move across the earth," he said.
President Hinckley also spoke of the founding of the Church through Joseph Smith, and said the church's beliefs and practices differ from every other church. "The work is unique and wonderful," he told the audience.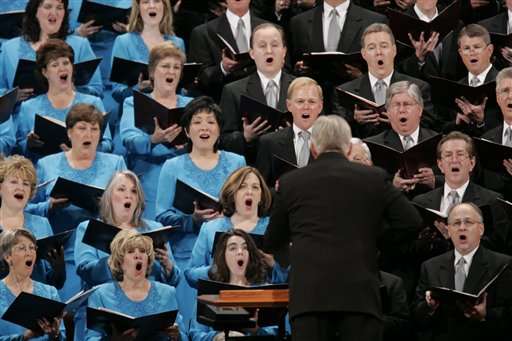 Conference attendees remarked how wonderful it was to be in the same place with President Hinckley.
Robert Steed, of Springville, said, "It was very spiritual. I'm actually really happy to see the prophet."
Eric Tiestel, from Mexico, told us, "He's a man of God. I can feel it."
And Centerville resident Susan Wolfley said, "This is a once-in-a-lifetime opportunity. We're grateful to be here today."
At the conclusion of conference, President Hinckley said, "We look forward to seeing you again next April. I'm 97, but I hope I'm going to make it. May the blessings of heaven attend you in the meantime."
As he left, President Hinckley once again used his cane, not for walking, but for waving.
He reported today that General Conference sessions were carried by satellite and other technology in 92 different languages.
(The Associated Press and KSL Newsradio contributed to this report.)
×
Related links
Most recent Utah stories