This archived news story is available only for your personal, non-commercial use. Information in the story may be outdated or superseded by additional information. Reading or replaying the story in its archived form does not constitute a republication of the story.
SALT LAKE CITY — Everyone knows the books of the legendary Dr. Seuss, but few know the story of the man behind them.
Theodor Seuss Geisel — known as Ted to family and friends — began his long road to success as a magazine cartoonist. During college, Geisel drew cartoons for the Dartmouth College humor magazine. In 1925, the dean caught him and his roommates drinking gin and violating the laws of Prohibition. As a result, he was stripped of his editorship for the magazine.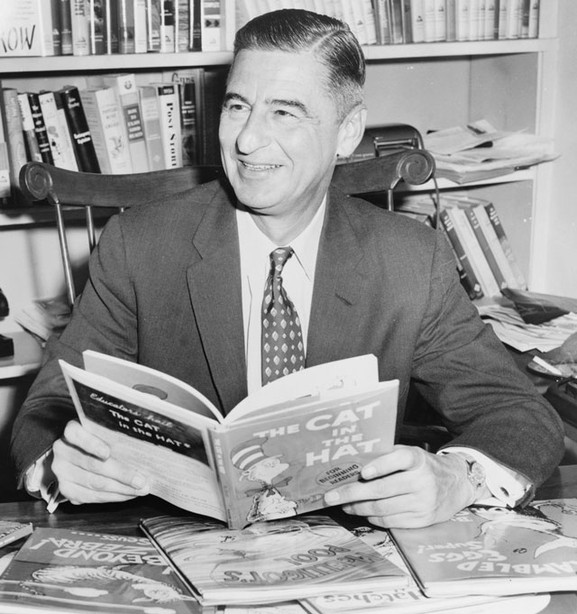 Determined to continue drawing, Geisel began publishing cartoons under aliases to avoid further punishment. By 1928, "Dr. Seuss" was his professional pseudonym. Geisel was not, of course, a real doctor, although later in life he would receive many honorary degrees.
In 1927, Geisel married Helen Palmer and they moved to a small apartment in New York. For a year he struggled to make a name for himself, and his first success was not in children's books but in advertising. The wife of an advertising executive happened upon one of Geisel's cartoons and suggested to her husband that he hire the talented cartoonist.
Dr. Seuss was soon hired to create a cartoon for a bug repellant known as Flit. His campaign, with the catch phrase, "Quick, Henry, the Flit!" was a huge success, the phrase becoming part of common American vernacular.
Starting in 1931, Dr. Seuss began his quest to publish a children's book. His very first would go unpublished, but the second book he wrote, "And to Think That I Saw it on Mulberry Street," would eventually, after many rejections and a bit of luck, be published by Vanguard Press.
In 1941, Dr. Seuss set aside his book work for 21 months to become a political cartoonist. Troubled by the expanding world war, he wanted to bring awareness to the country of many of the injustices and problems of that time. He published over 400 cartoons, many of which would inspire future books, such as "Yertle the Turtle," inspired by the rise of Hitler; "The Sneeches," a story about prejudice; and "Horton Hears a Who," inspired by a trip to Japan after the bombs were dropped.
My Top 10 favorite Dr. Seuss books
March 2 is Dr. Seuss' birthday. Teachers and Seuss fans all over the world will celebrate his work. Join in the fun by reading with your children one or more of my top 10 favorite Dr. Seuss books.
"The Lorax"
"Bartholomew and the Oobleck"
"The Sneeches and Other Stories"
"What Was I Scared Of?"
"Horton Hatches the Egg"
"The Foot Book"
"Oh, the Places You'll Go"
"Horton Hears a Who"
"The Cat in the Hat"
"The Grinch Who Stole Christmas"
For more information on Dr. Seuss and his books, visit the official website, seussville.com
In addition to raising awareness of social ills, Dr. Seuss was devoted to helping children learn to read. He was passionate about literacy, especially the power of books in the home. William Spaulding, the director of Hougton Mifflin's education division, challenged Seuss to write a book that "first graders can't put down." He handed Seuss a list of 348 words and told him to use no more than 225. After much frustration, Dr. Seuss conquered the task.
Published in March 1957, "The Cat in the Hat" was an immediate success, selling nearly 1 million copies by the end of 1960. The book's success inspired the launch of Beginner Books, a division of Random House that publishes books designed to help children learn to read.
Dr. Seuss wrote more than 50 books that have sold more than 220 million copies. His books are still a prominent part of childhood reading today and permanent fixtures in the American culture. Although Seuss was not able to have children of his own, few authors have been able to capture the imagination of so many young people as well as he. When asked how he could write so well for children, Dr. Seuss answered, "I don't write for children. I write for people." He said that most writers patronize children, something he never did. He added, "I treat a child as an equal."
My own childhood would not have been the same without Dr. Seuss books read expertly and humorously by my dad. I spent many quiet moments pouring over the pages of Seuss books, enthralled with the fantasy and captivated by the quirky illustrations. I still see Dr. Seuss' influence in what I read and write today.
---
Book Calendar
Davis Country Library: Used book sale, Feb. 25, 10 a.m. to 2 p.m., hardbacks $1 and paperbacks 25 cents, 562 S. 1000 East, Clearfield.
Teen Author Boot Camp: Registration open for teens ages 13-19. Conference held March 10, 9 a.m. to 5 p.m., at UVU, $49.
Warp+Weave: UVU's sci-fi journal, is accepting submissions for its spring 2012 issue. Deadline is Feb. 24. Visit the website for more information.
The King's English Bookshop: Hosting several author events. Please visit the shop's website for all the details.
Weller Book Works: Hosting several book and author events. Visit the store's new website for more information.
Ken Sander's Rare Books: Hosting a group reading and signing of "Fire in the Pasture: 21st Century Mormon Poets," Feb. 25, 7 p.m.
Salt Lake Community College Community Writing Center: "Resumes and Cover Letters: Making the Most of Your First Impression," workshop on Feb. 25, 1-3 p.m. Registration is $20.
Deseret Book: 135 N. 545 West, West Bountiful, signing with Frank Cole, Feb. 24, 5 p.m.; 1110 Fort Union Blvd, Midvale, signing with M.L. Forman, Feb. 25, 11 a.m.
---
*
About the Author: Teri Harman -----------------------------

*Teri Harman writes and reads from home amid the chaos of three young children. Her bi-weekly column, Book Matters, appears on ksl.com and in the Deseret News. For more book fun, visit book- matters.com**

----

(Main Photo: Scott G Winterton, Deseret News)

×
Related Links
Related Stories