Estimated read time: 2-3 minutes
This archived news story is available only for your personal, non-commercial use. Information in the story may be outdated or superseded by additional information. Reading or replaying the story in its archived form does not constitute a republication of the story.
SALT LAKE CITY — Linsanity rolls on after another terrific performance by Jeremy Lin. He scored 28 points and had 14 assists leading the New York Knicks to a 104-97 win over the Dallas Mavericks.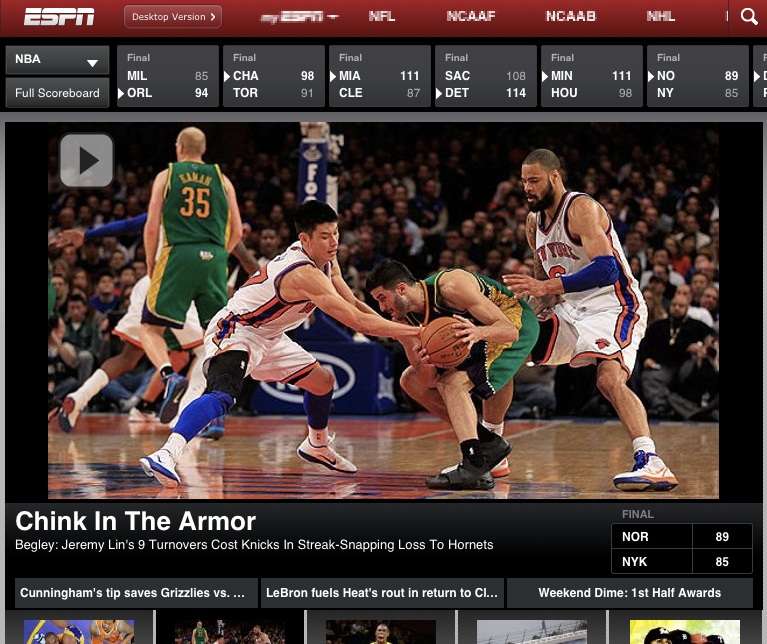 Lin's success is even rubbing off on those in attendance. One Knicks fan hit a half-court shot and won a new car.
Unfortunately, a mistake by ESPN.com received just as much attention. The worldwide leader in sports had to apologize for the now infamous headline pictured to the right.
ESPN announced Sunday that the employee responsible for the headline has been dismissed. ESPN also suspended anchor Max Bretos 30 days for using the same phrase.
It all gave perfect fodder for Saturday Night Live to take a stab at spoofing Linsanity. The skit took on race and all the puns caused by America's latest sports obsession.
Lookout for LeBron
Last year LeBron made fans in Cleveland cry and on Sunday he made a kid cry. James crashed into the front row while chasing a loose ball. Two young boys took the brunt of his landing. They shed a few tears but the boys were fine and soon after were all grins. I'm sure they will always cherish the once-in-a-lifetime moment.
A tribute to a legend
The baseball world lost one of its all-time greats Thursday when Gary Carter passed away. The tributes for the Hall-of-fame catcher poured in all weekend. This is the one that tops them all. The Montreal Canadiens honored the former Expo with an impressive tribute.
Shattered backboard
I'm sure you've seen many clips of basketball players breaking backboards. Here is one that is a bit unique. It's not often you see a high school kid do it in a championship game. It happened Thursday night in Mechanicsburg, Pennsylvania in the Mid-Penn Championship game between Central Dauphin and Cumberland Valley. Central Dauphin's Devin Thomas shattered the glass on a dunk, which caused the conclusion of the title game to be postponed.
×