Estimated read time: 1-2 minutes
This archived news story is available only for your personal, non-commercial use. Information in the story may be outdated or superseded by additional information. Reading or replaying the story in its archived form does not constitute a republication of the story.
Alex Cabrero ReportingTroopers have had to close I-15 through Millard County the last few nights because of dust storms, but tonight it's open.
Ever since this past summer's wildfire in Millard County, Utah Highway Patrol Sgt. Kevin Rhoades has been dealing with another hazard on I-15: dust and dirt have been blowing across the interstate, forcing troopers to close it several times in the past few weeks.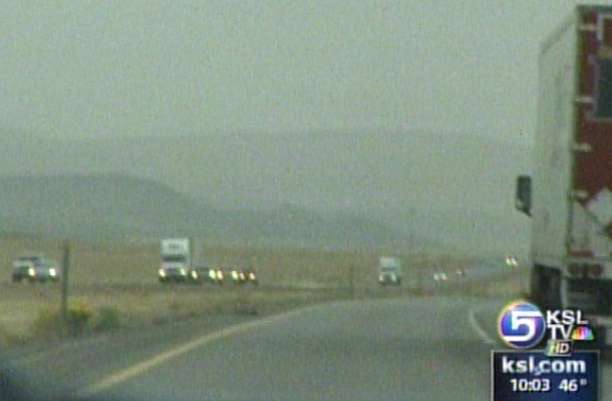 UDOT has put up signs to warn drivers of possible dust storms.
Sgt. Rhoades says, "It's amazing how fast it does come in. And the thing is, with a dust storm, it can be clear one second, like it is now, and the next visibility can drop to almost nothing, which is why when you see warning signs for a dust storm, drivers should take it easy."
During one of these dust storms, Sgt. Rhoades worked a 15-car crash where two people died.
"The people coming behind you, if they aren't fast enough to react or don't realize the danger you are in because you stopped, they're going to rear-end you. They're going to run into you," Sgt. Rhoades said.
It's all just another effect, another problem, caused by the wildfire some three months ago.
"There's just no vegetation out there. Those aren't clouds, that's the dust," Sgt. Rhoades said.
Rain today helped keep the dirt and ash on the ground, but in a desert environment, the wind can dry it all out in no time, sending it across the interstate again.
Detours have been set up through Meadow and Kanosh to get you through safely if I-15 has to be closed again in that area.
×
Most recent Utah stories