Estimated read time: 3-4 minutes
This archived news story is available only for your personal, non-commercial use. Information in the story may be outdated or superseded by additional information. Reading or replaying the story in its archived form does not constitute a republication of the story.
LAKEWOOD, Colo. -- A Colorado man's dog is alive thanks to a firefighter who pulled the dog out of an icy pond on Tuesday, but may be put down after biting a news anchor on a live interview.
Max is an 85-pound Argentine Mastiff, a breed known as a hunting dog.
Max's owner says he was doing his business off-leash on Tuesday around 5:30 p.m. when he spotted a coyote running out of a bush.
Dog bites news anchor

Max took off and chased the coyote on to the ice of Lakewood's Smith Reservoir.
Max spent 20 minutes in the freezing water before firefighters with the West Metro Fire Department arrived.
Firefighter Tyler Sugaski put on his wetsuit and went out as far as he could to get Max.
When Sugaski fell through into the water, he broke the ice with his arms to get closer to the dog.
"The dog recognized right off that I was there to help, so he came towards me," Sugaski recalled.
Sugaski helped Max along as much as he could, and when Max was on thicker ice he made a run towards land where he was met by his owner, Michael Robinson.
---
He's just a rock solid dog.
–Michael Robinson, Max's owner
---
"He's just a rock solid dog," Robinson said.
When firefighters got a hold of Max, they warmed him up in an ambulance.
As any dog owner can imagine, the moments were terrifying for Robinson.
"I just kept yelling at him, 'Come on boy,' and kept whistling. It was like a lap pool. He just kept swimming circles," Robinson said.
Robinson contemplated running after Max, but he tested the ice first.
"I start heaving the boulder hoping the ice is thick enough to hold me, but it didn't. It broke through," Robinson said.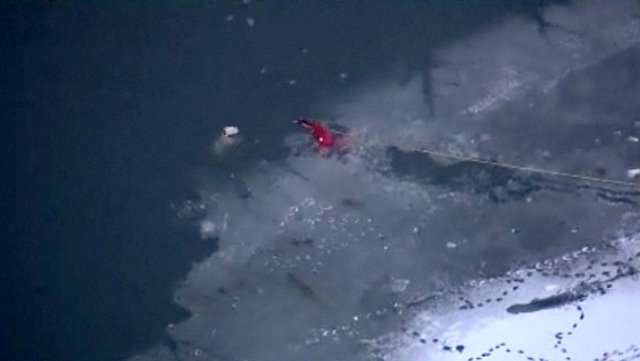 Max has a few scrapes from the ice, but is doing just fine now.
"He's our family member, he's like a son in a sense. I thank everyone involved for responding, for showing up, for being there," Robinson said.
Sugaski, who owns two dogs himself, says he's a big dog lover who also loves his job.
Those two combined to make a textbook rescue.
"Glad he can be back with his owner, and he's happy and will live to walk around the lake more, hopefully on a leash in the future," Sugaski said while laughing.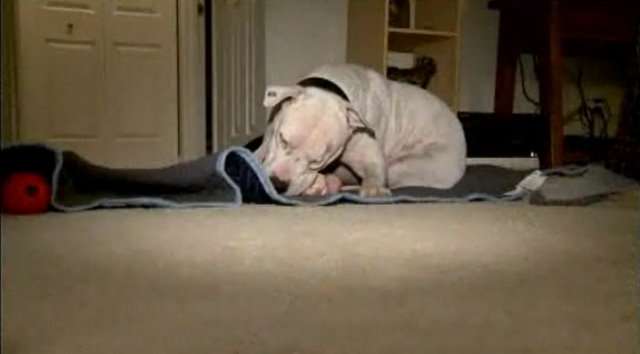 However, the future of the dog is now uncertain. After the heroic rescue, the dog and owner were interviewed on KUSA by anchor Kyle Dyer.
"I just adore dogs, but I'm especially happy to meet you after your story yesterday," Dyer said to the mastiff as she patted him during the interview.
Then as Dyer leaned in to show affection for the dog, it snapped at her, leaving bite marks on her face and lip. Dyer is receiving treatment at Denver Health Medical Centre.
Max's owner will be cited for leash law violations, not having control of the dog and not vaccinating it for rabies.
The animal is not showing signs of rabies but may be put down anyway.
×
Most recent Features stories