Estimated read time: 3-4 minutes
This archived news story is available only for your personal, non-commercial use. Information in the story may be outdated or superseded by additional information. Reading or replaying the story in its archived form does not constitute a republication of the story.
PRICE — A search is under way for two natural-gas pipeline workers who have been missing for nearly a week.
Mark Widegren and Brian Axe, both 28, work for W.C. Striegel Inc., a Colorado-based pipeline construction company that is building a natural-gas pipeline in Nine Mile Canyon. The men left the construction site, where they also live during the week, on Jan. 28 and headed into Price to eat and watch a game at the Silver Dollar Steakhouse, according to Carbon County sheriff's deputy Wally Hendricks.
Widegren and Axe, who are from Grand Junction, Colo., left the Silver Dollar about 11:30 p.m. in a gold-colored Jeep Grand Cherokee, Hendricks said.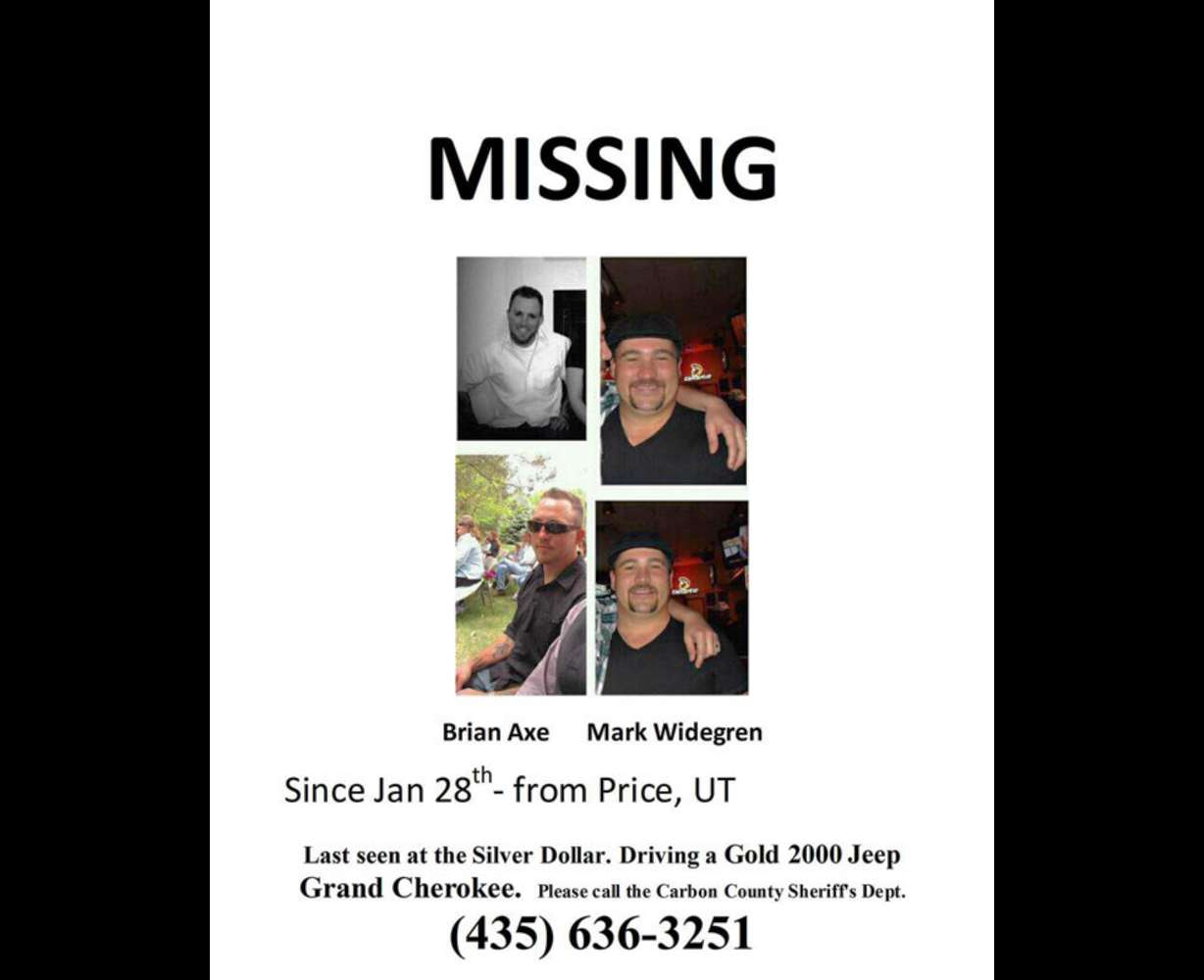 "Since that time, there's no evidence of where they are or what they're doing," the deputy said.
The men's bank accounts have not been touched, nor have investigators been able to pick up signals from the men's cellphones.
Because of the remote area where the men work, family members in Grand Junction didn't think much about it when they hadn't heard from them for a few days.
However, when neither man showed up for work Monday, a co-worker called area hospitals and jails to see if something had happened to the men. By Wednesday, when they still hadn't turned up, the co-worker alerted the men's families, who contacted the sheriff's office.
"At this point we don't know anything," said Andy Nack, Widegren's brother-in-law.
"It's just like they vanished off the face of the earth," he said.
A Carbon County sheriff's deputy spent Wednesday driving the maze of dirt roads in Nine Mile Canyon, but found no evidence of the men or their vehicle, Hendricks said. The pair's co-workers also conducted a search of the area Wednesday evening, according to Teri Wilczek, a controller with W.C. Striegel.
By Wednesday night, Nack and other friends and family members of the missing men had arrived in Price. They were joined by search volunteers from the Grand Junction-based nonprofit group the Abby and Jennifer Recovery Foundation.
But poor weather in the canyon Thursday — and no clear idea of where to search there — led authorities to postpone any kind of ground effort beyond vehicle patrols by deputies, Hendricks said. They were also prevented from conducting an aerial search until late in the day because of the weather. The Utah Department of Public Safety helicopter was able to fly over the canyon briefly on Thursday.
Authorities do not believe Widegren and Axe left the area, based on items that were found in their room at the W.C. Striegel mancamp, such as "personal items, medication, things you wouldn't typically leave behind if you were planning a longer trip," Hendricks said.
And neither man is the type to take off without telling family, Nack said.
The men's families and friends spent Thursday putting up missing persons flyers around Price, and trying to keep their hopes up.
"That's all you can do," Nack said. "If you focus on the negative, that's all you're going to think of. Right now, we're focusing on the positive."
Anyone with information about Widegren and Axe should call the Carbon County Sheriff's Office at 435-636-3251.
Email:gliesik@ksl.com
×
Photos