Estimated read time: 3-4 minutes
This archived news story is available only for your personal, non-commercial use. Information in the story may be outdated or superseded by additional information. Reading or replaying the story in its archived form does not constitute a republication of the story.
MANILA, Utah (AP) -- Two convicted killers who tied a retired police officer to a bed post before stealing his Ford Explorer and guns made a promise to the 79-year-old man.
"They said, 'We'll have somebody come up and untie you in a couple days,"' Bill Johnson said. "I didn't dare ask who that would be."
Johnson didn't wait. He freed himself from duct tape and sheets inside his trailer, ran to a road and flagged down a passing car Saturday night. It led to a 911 call and the subsequent capture of two men who had escaped from a Utah jail.
"It turned out good," said Johnson, a former Salt Lake City officer. "They got them bastards."
Danny Martin Gallegos, 49, was in critical condition at University of Utah Hospital with a gunshot wound related to the capture.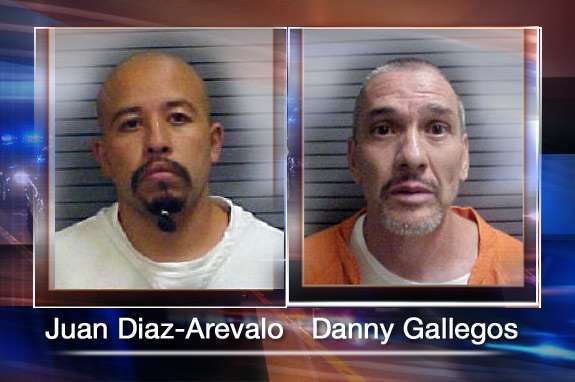 Juan Carlos Diaz-Arevalo, 27, waived extradition back to Utah during a brief court hearing Tuesday in Sweetwater County, Wyo., sheriff's Detective Dick Blust said.
The men escaped from the Daggett County jail on Sept. 23, 120 miles east of Salt Lake City on the Wyoming border.
For six days in the wooded, mountainous region, Gallegos and Diaz-Arevalo apparently survived by drinking from streams, eating jail provisions and breaking into at least one hunting camp, authorities said.
Then they broke into Johnson's modest trailer Saturday night and waited for him to return from a barn dance around 7:30 p.m. MDT.
He said they stuck a knife to his back, tied him up with duct tape and sheets and asked for directions out of the area before stealing his sport utility vehicle, two handguns and a rifle.
Johnson said he was careful to keep his wrists apart to allow room to work out the knots.
"I might have watched it on TV or something," he told The Salt Lake Tribune.
After the killers departed in Johnson's Explorer, he freed himself in an hour and flagged down a couple. They drove five miles to get a cell-phone connection in the remote area and called police.
"My husband just thought he was a mad farmer telling us to slow down," Brittney Rogers said of Johnson. "He kept coming, and that's when we stopped. We thought something was wrong."
Just minutes after the 911 call, authorities spotted the Explorer in Green River, Wyo., chased Gallegos and Diaz-Arevalo for 11 miles on Interstate 80 and then stopped them by dropping spikes in the vehicle's path.
Officers tackled Diaz-Arevalo after he ran about 100 yards. Gallegos was shot when police feared he might fire at them.
Johnson will get a $15,000 reward, while D.J. and Brittney Rogers of Roy will receive $5,000.
"I ain't no hero," Johnson insisted. "I'm just a victim of circumstance and lucked out."
Blust, however, said Johnson's quick thinking made the difference.
"If he had taken 15 minutes more to free himself, there was an excellent chance they would have gotten away," the detective said Tuesday. "Vehicles can be extremely hard to spot on the interstate at night.
"His courage and toughness made the capture possible," Blust said.
(Copyright 2007 by The Associated Press. All Rights Reserved.)
×
Related links
Most recent Utah stories