Estimated read time: 2-3 minutes
This archived news story is available only for your personal, non-commercial use. Information in the story may be outdated or superseded by additional information. Reading or replaying the story in its archived form does not constitute a republication of the story.
Tonya Papanikolas ReportingFriends and family are mourning a 16-year-old Heber girl who died in a traffic accident on Sunday.
The girl was a sophomore at Wasatch High School in Heber. She had been on a homecoming date when she and her friends got in a car accident.
Family members say they believe the driver may have fallen asleep while driving home to Heber City. The teens in the car weren't wearing seat belts. Now family members say they're going to miss a fun-loving girl who loved to ride horses and dance.
Shelbie McAffee had just turned 16 years old and was looking forward to a lot of firsts.
Her sister, Mandy Crystal, said, "All in one week she got her license and went to her first dance, and she got her first official date."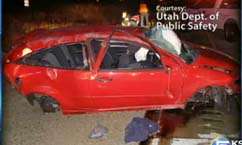 At homecoming Saturday night, she, her date and another couple went to the dance then left for Salt Lake to go to a haunted house. But when they learned it had closed, they decided to eat and then drive back to Heber.
Mandy Crystal said, "Called my mom on the way home and said, 'We're coming home.' And that was the last we heard."
When it got late, Shelbie's brother, Tom McAffee, went looking for her. After hearing about an accident on Highway 40 he went to the scene and recognized the car.
"We got up there and they were just wrecked," he said.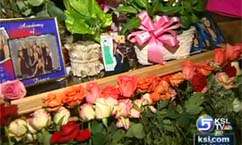 The car had rolled into the median and all four teens were thrown out. That's where dozens of friends and family members gathered tonight to remember Shelbie. At school a local business donated flowers, which students took to Shelbie's home.
A friend, Kassy Ryan, said, "This is just such a big shock. It doesn't even seem real right now."
Veronica Hunsaker, another friend, said, "Someone I actually knew and was close to was gone... She was so young."
The family says it meant a lot to know how many people loved her.
Tom said, "We thank the people who gave out all these roses for her. They loved her and cared for her."
Shelbie's friend Jessica Swianston said, "She just befriended anyone. She always had a great attitude about anything."
Mandy said, "[I] never knew that one little person could touch so many lives."
Shelbie's date is the only one of the crash victims who has been released from the hospital. The other two teens are still being treated.
The other girl in the car broke her hip and had to have surgery. The driver is in a medically-induced coma. The Highway Patrol told us he is in critical condition, but he has been stabilized.
×
Related links
Most recent Utah stories