Estimated read time: 3-4 minutes
This archived news story is available only for your personal, non-commercial use. Information in the story may be outdated or superseded by additional information. Reading or replaying the story in its archived form does not constitute a republication of the story.
PROVO -- A Provo man's love of cars is going on display. He is re-opening his own museum, and he built every one of the cars by himself.
As you step into the museum, you will find a three-wheel car, a five-wheel car and a six-wheel car that is bullet-proof. Really, what you are seeing is the creativity of a man whose life work has always been about the automobile.
Jerry Woodward loves cars and he's spent his lifetime making them, beginning in 1944 when he was just 15 years old. He said that his father taught him everything he knew then, and he built a car from the ground up.
Woodward's talent for designing and building one-of-a-kind cars led him to the top of a national competition in 1963.
"It was the X-2000, but they said as far as they were concerned it was the vehicle of the future, it was so different," Woodward said.
The car makers in Detroit took note and some of Woodward's concepts soon started showing up on the assembly line. Ford tried to hire him, but instead he chose to stay in business with his father.
"At the time my father was in need of a me and we were in business together," Woodward said. "I told them I couldn't do it, I couldn't leave him, he needs me right now. I probably would have made a lot of money."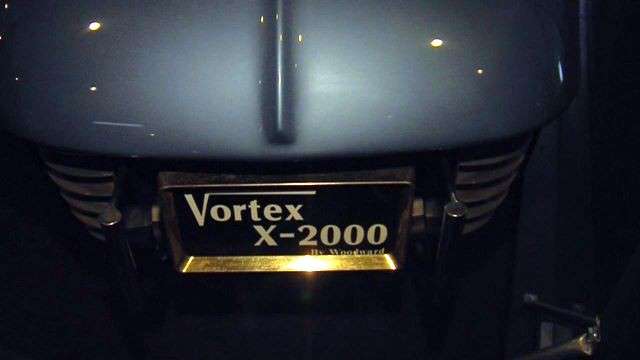 It's a decision Woodward still doesn't regret. He prefers to put his heart and soul into his cars, because it's what he loves to do. Car enthusiasts recognize his abilities, particularly to be meticulous.
"He's got the patience of Job and the intelligence of Einstein,' said friend Kenn Elliott. "He's a good person too, a very good person."
While his cars haven't made him big money, they have given him a lifetime of memories. Now at 81 years old, Woodward wants to make sure his love of cars and innovation, is shared with future generations.
"I think it will stimulate their ingenuity, and that's what it's all about: For them to learn things when they are young and take advantage of it," Woodward said.
Woodward built the Thunder Rod II from the chassis and body of a 1929 Ford Model A. The car's turbocharged engine earned it a record quarter-mile time in street drag races for five years and garnered the 1957 Most Beautiful Roadster Award at the Grand National Roadster Show in Sacramento, Calif.
The car's dual-headlight design caught the interest of manufacturers and became the standard headlight design on Peterbuilt trucks, Woodward said.
Designers also loved the elements of the 1962 Vortex. A three-wheeled car with a sleek, triangular shape, the Vortex has recessed headlights and a full-width tail light. Ford Motor Co. used the same design in its 1965 Thunderbirds and it has since become the industry standard, Woodward said.
Woodward won a Grand National Car Show award for the design. In all, he's won six such awards for his combination of ingenuity and skill.
Those with an affinity for cars and creativity can take advantage of seeing the museum tomorrow morning. It is located next to Ace and Jerry's Auto-Glass shop, just south of the Covey Arts Center in Provo.
Written with contributions from the Associated Press.
×
Photos
Most recent Utah stories