Estimated read time: 1-2 minutes
This archived news story is available only for your personal, non-commercial use. Information in the story may be outdated or superseded by additional information. Reading or replaying the story in its archived form does not constitute a republication of the story.
Carole Mikita Reporting Tens of thousands of Latter-day Saint women will fill the Conference Center Saturday evening to hear from the leaders of their organization, the General Relief Society Presidency.
The organization has new leaders for tomorrow's meeting. The women were introduced to the media last April, so this women's conference will be the first time they will have the opportunity to speak as a presidency.
Julie Beck, Silvia Allred and Barbara Thompson are the 15th General Relief Society Presidency for The Church of Jesus Christ of Latter-day Saints. They lead one of the largest women's organizations in the world, with 5.5 million members in 170 countries.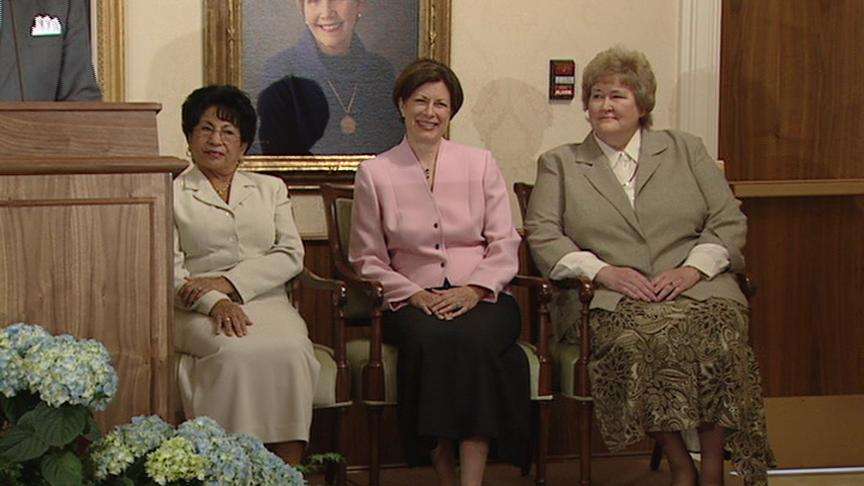 "When I served on the Relief Society Board a number of years ago, I had the opportunity to meet many women. And I can tell you that there are devoted, righteous, dedicated women throughout this world," Second Counselor Barbara Thompson said.
First Counselor Silvia Allred said, "My contribution to this calling, as I search very deeply into my soul wondering what have I done? And I started thinking about all the wonderful women of Relief Society that I have met throughout my life."
"I hope that we can do our part to strengthen families, to bless the rising generation that is coming. They need us in this world that presents so many challenges. As I look in the faces of my grandchildren, I see great hope for the future," President Julie Beck added.
For those unable to come downtown to the Conference Center or an LDS Church meetinghouse, KSL will broadcast The General Relief Society Meeting live on ksl.com and KSL-TV Digital 5.3 beginning at 6 p.m.
Along with the three women of the General Relief Society Presidency, President Thomas S. Monson will also speak tomorrow evening.
×
Related links
Most recent Utah stories