Estimated read time: 1-2 minutes
This archived news story is available only for your personal, non-commercial use. Information in the story may be outdated or superseded by additional information. Reading or replaying the story in its archived form does not constitute a republication of the story.
Ed Yeates ReportingOut with the old, in with the new. In fact, those trying out this next generation wheelchair don't even call it a wheelchair anymore.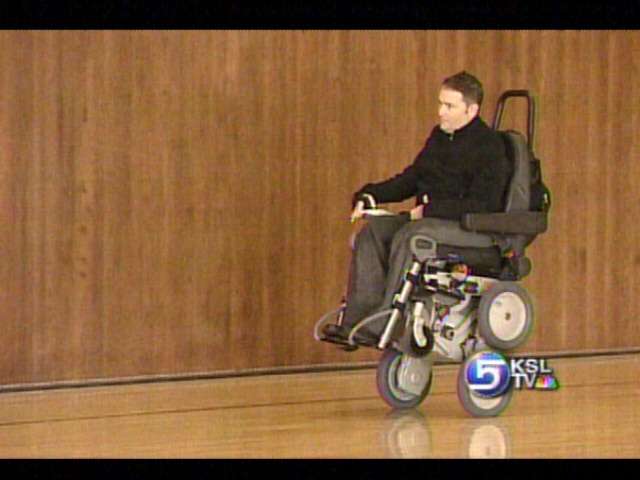 Calvin Woolley: "It will put a hole in the wall if you run into it. It has a lot of power. Sheetrock would be no match for it."
Calvin, who was severely injured in a car accident ten years ago, is one of only two Utahns now using the new generation chair, approved by the FDA less than a year ago. He can now even raise himself up to eye level with other people.
Calvin Woolley: "If you're in a wheelchair and trying to be involved in a conversation, everybody has to look down at you. Whereas if you're up at their eye level, it makes the conversation flow better. It takes away the feeling of, you know, being disabled."
If something should push or hit the chair in its raised position, IBOT instantly drops to four wheels. It can walk up and down almost anything, always keeping its occupant balanced.
Because of the level of Calvin's disability, he has to have some assistance going up and down stairs. If he still had use of his triceps, he could hold on to the hand railing and really maneuver the stairs all by himself. In fact, he'll most likely be able to do that with the next series of chairs.
Jerry Pierce, Independence Technology: "As much as this chair has amazed people, you can only imagine what's going to be next."
The price tag for this chair is $26,000, about what you'd pay for a new car. But then, for Calvin this is his car.
×
Most recent Utah stories