Estimated read time: 3-4 minutes
This archived news story is available only for your personal, non-commercial use. Information in the story may be outdated or superseded by additional information. Reading or replaying the story in its archived form does not constitute a republication of the story.
CENTERVILLE — Copper is a hot item for thieves these days, and some of that theft costs all of us as taxpayers.
Thieves ripped copper wire right out of lights on Legacy Parkway last week, and the Utah Department of Transportation says it needs to put an end to it.
"Copper has such a high value that people are willing to take it from anywhere," said Officer Rolynn Snow, who is investigating this case for the Centerville Police Department.
For a couple of years now, thieves have targeted the wiring for the lighting on Utah highways. UDOT and the police hope that we can all help catch these criminals by keeping our eyes open for suspicious activity around highway lights.
"It's costing UDOT and taxpayers thousands of dollars to get this replaced, and it's getting obnoxious and needs to stop," said Valentino Martinez, UDOT's maintenance supervisor for that area.
---
(Wire theft is) costing UDOT and taxpayers thousands of dollars to get this replaced, and it's getting obnoxious and needs to stop.
–Valentino Martinez, UDOT
---
One of his maintenance crews discovered the recent theft, which they believe happened sometime in the last week of December. Thieves stole 7,000 feet of wire that weighed about 300 pounds and is valued at $17,000.
It's the second time thieves hit this location. Last time, they made off with 10,000 feet of wire.
"At this interchange alone, we've lost nearly $50,000 in copper wire," said UDOT spokesman Vic Saunders.
In 2010, Utah lost more than $200,000 worth of copper wire from lights along the Wasatch Front, and labor costs make it even more expensive.
"The damage that's been done here is something that can't be redone in a matter of days," Saunders said.
The thieves cut the wire at the junction box at the base of each of the light poles. Then they tie the wire to the bumper of a truck, take off, and rip the wire right out of the ground.
"Anywhere they can get their hands on this copper wiring, they're taking it from everywhere," said Snow, who calls copper theft a growing trend.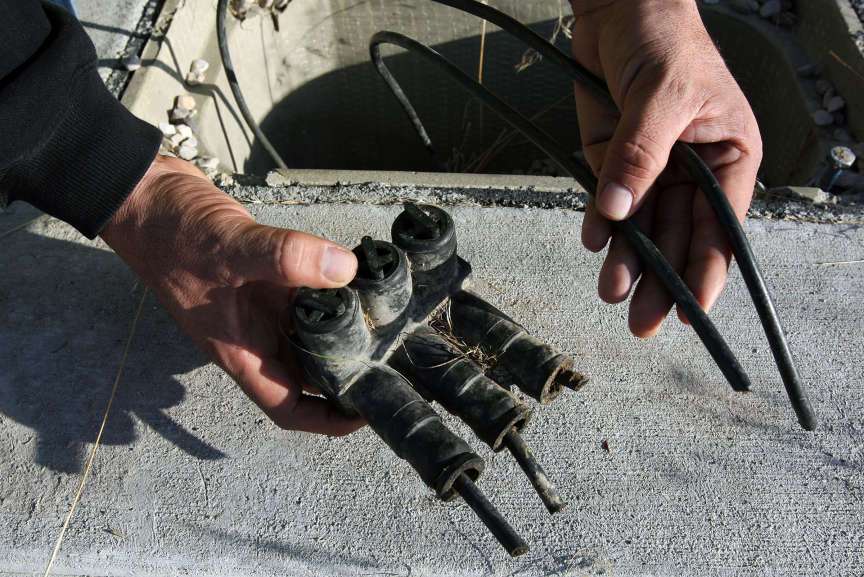 Snow says the thieves strip the insulation and try to sell it to recyclers. "Once they get the copper, they'll break it down into smaller portions and then turn it in — maybe not all at once," he explained.
At Metro Recycling in Salt Lake, they ask for proof of ownership so they don't end up with stolen metal.
"In the long run, it doesn't do us any good to buy stolen materials from the general public, or anybody," said Chris Bond, a vice president with the company.
If a company buys stolen material, and the rightful owner later claims it, they lose. Bond says most major recyclers now work with police on the Wasatch Front, and Metro Recycling got an alert on this crime Wednesday morning.
Bond says other cooperating recyclers got the same alert with details on the crime. "We're just waiting for these thieves, whoever they are, to bring this stuff in so we can catch them," he said.
But criminals may unload the hot wire out of state, or in rural areas. Bond says local recyclers, the police and the district attorney have worked together to make a big dent in the crime in recent years, but the criminals often find ways to make money on the metal.
This time, though, Snow says the thieves left evidence. "We are fairly confident and hopeful that if we pull what we need to out of the evidence, we'll be able to locate a suspect," he said.
If you see someone messing around at the base of a light, call the police. UDOT never pulls the wire out, so that should be a red flag.
Lights that aren't working could be another sign of theft. Report that to UDOT.
Email: jboal@ksl.com
×
Photos
Related stories
Most recent Utah stories