Estimated read time: 3-4 minutes
This archived news story is available only for your personal, non-commercial use. Information in the story may be outdated or superseded by additional information. Reading or replaying the story in its archived form does not constitute a republication of the story.
SALT LAKE CITY — Ralph Becker began his second term as mayor by looking back at the past four years and highlighting the ways Utah's capital city continues to thrive.
"As we watch our downtown blossom and flourish and change, we are mindful that Salt Lake City is emerging as a model for other urban areas around the country," Becker said after taking the oath of office Tuesday.
"We live in a moment of transformation locally, nationally and globally — a time that calls for our community to evaluate our extraordinary assets and focus on how we can use them wisely to sustain ourselves with health and prosperity for our children and future generations," he said.
Becker was among several local leaders across the state sworn in Tuesday after winning elections in November.
In Ogden, Mike Caldwell was sworn in as mayor during a noon induction ceremony, along with City Council members Caitlin Gochnour, Richard Hyer and Amy Wicks. Caldwell defeated Brandon Stephenson in the race to replace three-term Mayor Matthew Godfrey, who opted not to seek a fourth term.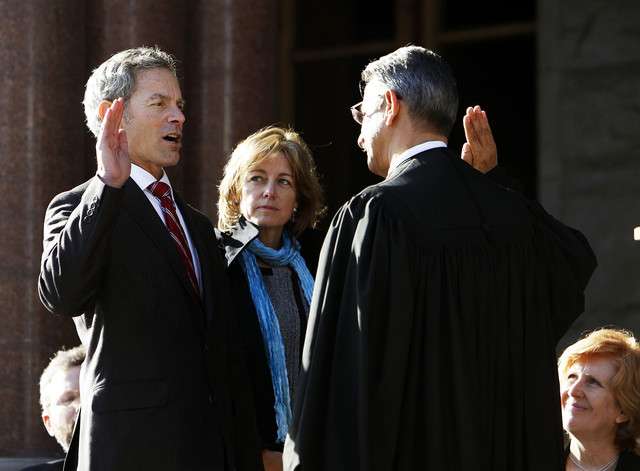 In Provo, the City Council welcomed four new members — Gary Garrett, Hal Miller, Kay Van Buren and Gary Winterton. And in West Valley City, Corey Rushton was sworn in for a second-term on the council, along with newcomers Tom Huynh and Karen Lang.
Becker was joined on the steps of the Salt Lake City-County Building by Luke Garrott, who was sworn in for a second term on the Salt Lake City Council, and council newcomers Kyle LaMalfa and Charlie Luke.
Holding a figurative mirror up to Salt Lake City, Becker said he sees "a city that wins best in class," a city that has emerged as a leader in accessibility, sustainability and sophistication.
"Salt Lake City is a city distinct on its own, yet part of a greater region and state," he said. "Our city's promise is reflected in its majestic peaks, symbolic of a city that is ascending."
Becker said Salt Lake City is redefining the term "urban area" to describe both a place and an experience.
"No urban place has the opportunity to maintain a mountain, desert and an intensely dynamic and creative human experience quite like Salt Lake City," he said. "We have here a balance in a city that is surely among the most enviable of urban areas."
Garrott, a political science professor at the University of Utah, said the nonpartisan nature of local governments allow them to succeed where their state and national counterparts sometimes fail.
"Our coalitions are temporary and built on examinations of issues that, while rarely perfect, allows a more serious consideration of the public interest than iron-fisted party caucus positions ever do," said Garrott, who begins his second term representing District 4.
LaMalfa, who replaces three-term Councilman Van Turner in District 2, spoke of the vast potential for Salt Lake City's west side.
"I say those who seek equality with the east side are limiting themselves," he said. "The west side has vastly greater potential as a center of culture, industry and community. We can build on our proximity to downtown, our large building lots for housing, our winding natural river corridor, our business nodes and our new North Temple grand boulevard."
Luke, who defeated District 6 incumbent JT Martin in November, echoed his campaign calls for increased attention to the "nuts and bolts" of city government, such as municipal services and infrastructure.
He also spoke about the need to continue to build relationships with government partners at the state, county and local levels.
"Salt Lake City should not be viewed, nor should it act, like it is an island in the state," Luke said.
Email:jpage@ksl.com
×
Photos