Estimated read time: 2-3 minutes
This archived news story is available only for your personal, non-commercial use. Information in the story may be outdated or superseded by additional information. Reading or replaying the story in its archived form does not constitute a republication of the story.
POINT OF THE MOUNTAIN -- If you have noticed some massive heavy machinery on both sides of I-15 at the Point of the Mountain, you might be curious what is going on. It's part of the ongoing project to enclose the Murdock Canal.
It's actually a complicated construction project happening directly beneath the freeway. It would be a major mess and extremely expensive to dig up I-15 and put in a new pipe, so crews are reinforcing the existing water tunnel with steel - an innovative solution that is so far working well.
It's not very often you see a giant crane lowering something down below the ground, rather than far above it. In this case, the crane is moving a very heavy section of steel 20 feet below I-15.
"There is a concrete pipe that we call an inverted siphon that collects the canal water, goes down and comes back up," said Steve Cain with the Provo River Water Users Association.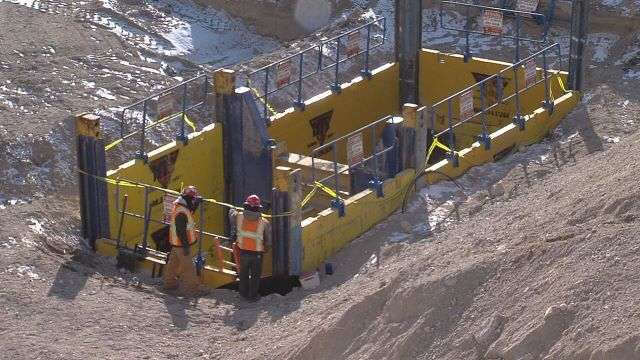 The steel will strengthen an existing concrete pipe that has been moving water into the Salt Lake Valley since 1970. Thousands of gallons of water flow through it every second.
"The difficult thing is to slip in the sections of steel inside of the concrete pipe and do that safely," Cain said.
To get the steel pipe to fit into the cement workers are using a very clever trick.
"The contractor has a system of taking these sections of pipe that are curled together and slipping them inside the pipe," Cain said. "Then they open them up and weld them in place."
The work happening under the freeway is moving fast; it should be wrapped up in less than a month. Overall, the $150 million project to turn the Murdock canal into a safer and more efficient pipeline is 80 percent complete. Eighteen of 21 miles have been lined, and the pipe should ready for the water to start flowing though the canal by May 1.
Most of the construction work actually has to happen during the fall and winter when the water does not need to flow. During the spring and summer, it has to be opened regardless.
Email: spenrod@ksl.com
×
Photos
Related stories
Most recent Utah stories