This archived news story is available only for your personal, non-commercial use. Information in the story may be outdated or superseded by additional information. Reading or replaying the story in its archived form does not constitute a republication of the story.
CLINTON — Sheena LaRose and her son Kamden eagerly waited Tuesday for the arrival of Lee Parry and Fred Naeata, two delivery associates from the RC Willey furniture store.
The 4-year-old could barely contain himself — and it wasn't because the men had a suprise for Kamden. Instead, the family had arranged with the store a fake delivery so they could thank Parry and Naeata for saving the boy's life.
On Sept. 7, the RC Willey truck with new furniture was earlier than Sheena LaRose was expecting, so she told Kamden to go to his room while she vacuumed the house. Parry and Naeata started bringing furniture into the house, Parry recalled, when he noticed Kamden in the window trying to talk to his friends. A few moments later, he heard a thud.
"I looked over in the bushes and saw the screen of the window sitting in the flowers, " he said, "and that's when I looked in the window well and saw him lying in the water."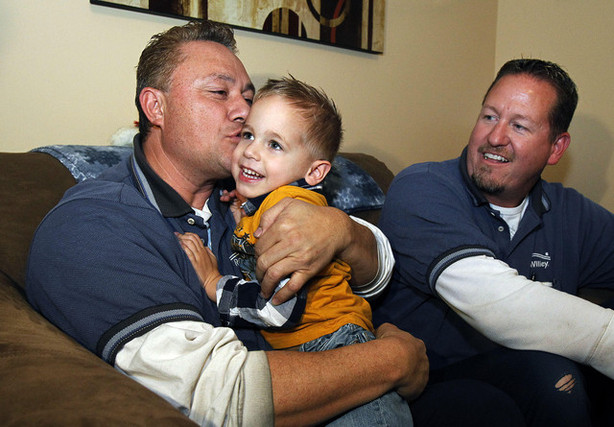 He yelled at Fred to get Kamden's mom. "I ran down the stairs, and that's when I see Lee carrying him in into the house just sopping wet," Sheena said. "His head was bleeding and he was kind of whimpering."
Kamden's father, Kyle LaRose, was working in Salt Lake City when he got the call that Kamden was hurt. The drive to the hospital in Ogden was agonizing as he didn't know how badly his son was hurt. All he knew was that Kamden was alive because he could hear him crying in the background.
"It's not the call you want to get any day," he said.
Kamden was rushed to Ogden Regional Medical Center, where doctors determined he had a small collapsed lung that would heal itself and abrasions on his scalp. He was taken to Primary Children's Medical Center for observation and was released the next day.
Going back home after such a traumatic night was difficult. Sheena said she started crying when they pulled up to their home because it was the first time she realized how far Kamden had fallen, about 20 feet.
The family said they needed to thank the men who did so much for them that day. "How do you not thank someone that saved someone so precious," Sheena said.
Both Sheena and Kyle say they're sure that quick response is what saved him. On Tuesday, the family just wanted a chance to show gratitude.
"We haven't had a chance to thank you for saving him out of the well," she told Lee and Fred as she was unable to hold back tears.
---
"I don't think we're heroes," Lee said. (We were) just doing what anybody else would have done." - Lee Parry
---
Both men were happy to see the little boy running around. "I have six at home," Fred said. "It's like he's one of my own."
"Feels good to see him," Lee said. "Feels good to see that he's doing well."
Neither man feels like they did anything extraordinary.
"I don't think we're heroes," Lee said. (We were) just doing what anybody else would have done."
And it turns out that, helping people in need is common for the pair who have worked together for almost 10 years. They recently came back to the warehouse just in time to find a fellow employee lying in the parking lot. He had just had a seizure, and they were able to get him some quick help.
As for the LaRoses, they say they can't thank the men enough.
"I love Lee," Kamden said. When asked why, he said, "Because I love him."
Email:vvo-duc@ksl.com
×
Photos