Estimated read time: 2-3 minutes
This archived news story is available only for your personal, non-commercial use. Information in the story may be outdated or superseded by additional information. Reading or replaying the story in its archived form does not constitute a republication of the story.
SALT LAKE CITY -- Some Utah schools are taking steps to change the way recess works and makes better use of time - to help kids learn to get along while being more physically active. It's called Playworks, and five schools in the state trying it out this year.
The program is called Playworks. It's a collaborative effort that teams schools with the nonprofit group to try to make sure recess is a positive, meaningful use of kids time - one that better prepares them to do well in class.
Fifth-grader Renya Wolfblack says it used to be mess during recess at Lincoln Elementary. A lot of kids were just hanging out, or worse.
"There was more bullying, more pushing, pretend fighting. There was people butting in lines," she said.
Things have changed since "Coach V" arrived. A program coordinator with Playworks, Valita Ortiz teaches and organizes games and gives kids concrete ways to resolve conflicts, like the roshambo, or rock, paper, scissors.
"And now we don't say that anymore. We don't use the 'you're out" anymore. We just do 'high five. Nice try.' 'Nice try, alright,'" Wolfblack said.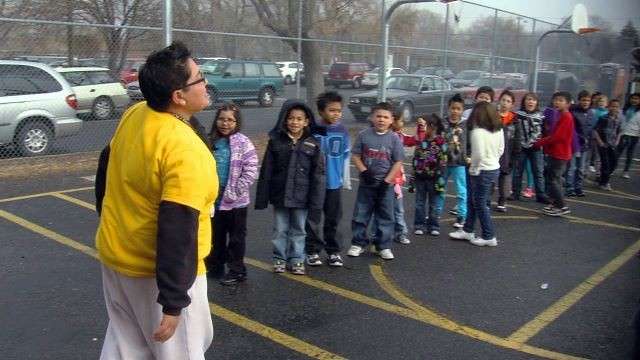 Lincoln's principal says the playground used to have a time out corner. Not anymore. Now the kids are active and involved.
"We don't want the kids in the office in trouble," said principal Christin Pittam. "We want the kids in the classroom learning. The physical activity, preparing their brains for learning, and keeps them out of trouble. So it's win-win all the way around."
"Playworks works because play is so instrumental in youth development and in how children grow socially, emotionally and physically," said Chris Conrad, Executive Director of playworks Salt Lake City
Is all the fun working? The school reports bullying, physical aggression and office referrals are all down this year.
"For me it's about the fun, it's about the learning and it's about the respect," said Valita Ortiz.
Renya Wolfblack said that it has made a huge difference.
The program hopes to raise the funds to expand into all of the elementary schools in the Salt Lake District next year. Playworks and the school split the cost of the coordinator.
Email: [jdaley@ksl.com](<mailto: jdaley@ksl.com>)
×
Photos
Related links
Related stories
Most recent Utah stories