This archived news story is available only for your personal, non-commercial use. Information in the story may be outdated or superseded by additional information. Reading or replaying the story in its archived form does not constitute a republication of the story.
SANDY -- A Sandy man is battling terminal cancer, but that hasn't dampened his holiday spirit. In fact, he's turned his home into a Christmas celebration, and his 85 lawn ornaments are making more than the just the neighbors smile.
In fact, it seems as if no one can pass the home of Brett Barrett without smiling. It has become an outward expression of joy from a man who has decided to put his own challenges aside and think of others.
"I started out with just a few blow-ups and then it kind of went crazy after that," said Barrett. "I got more and more."
He's been a collector for years, but last season bought quite a few online at half-off. The yard is filled with the obvious ornaments of the season, but there's also a lime green Volkswagon he found in the middle of a horse pasture.
"Before I knew I had cancer last year, I brought it home from Wyoming and brought it out here. (I) stuck the blow up in it and everybody thought that was the neatest thing," Barrett said.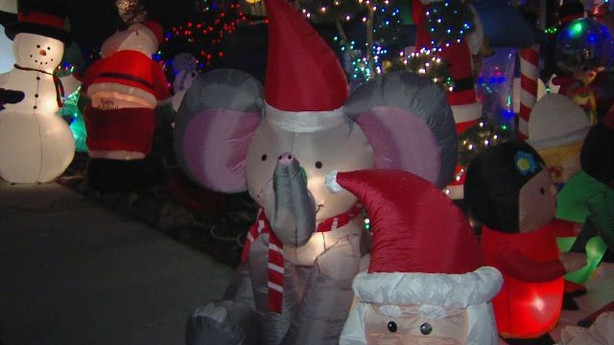 Brett has choroidal melanoma. It is a cancer of the eye that has now spread to his liver. Doctors tell him he will not live long, but even lack of energy has not stopped the decorating. It leads to some amusing and heartwarming images and memories.
"You got a guy with terminal cancer and my big son who's scared to death of heights," Barrett said, "and he's holding me at one o'clock in the morning so I don't fall, while we're hooking the lights up to the big blow-up on the roof."
He says he's going to enjoy each day, and this decorating is a part of it.
"I try to help people out, you know, and you only live once," he said. "(I) try to be as happy as I can be, and this is just the way I can express my feelings."
His neighbors know that Brett did it for them and their children.
"That's what really made it so special," said neighbor Jeff Beaudry. "It really gives us all the Christmas spirit for sure. Every night we go to bed and look out there and it gives you a nice warm smile to go to bed on."
The 85 lawn ornaments will remain up at the Barrett home at 8005 S 12 Pines Drive, unless there is a wind storm, into January.
Email: [cmikita@ksl.com](<mailto: cmikita@ksl.com>)
---
×
Photos
Related Links
Related Stories