This archived news story is available only for your personal, non-commercial use. Information in the story may be outdated or superseded by additional information. Reading or replaying the story in its archived form does not constitute a republication of the story.
NEW YORK CITY — Friendship, courage, loyalty: The new film "War Horse" tells the story of an English farm boy and his beloved horse, Joey. War separates them, but their connection remains.
The world premiere took place Sunday at Lincoln Center, with 1,400 in the audience and seemingly hundreds of reporters and photographers on the red carpet. Director Steven Spielberg says he was inspired by both the book and stage play.
"The war ended the horse's career as a wartime tool, and I don't think it was a good way to end the horse," Spielberg said. "Four and a half million horses were killed in the first World War, but it was also technology was taking over and horses were no longer necessary. But their heroic deeds are still, to this day, not forgotten, and that's one of the reasons we tell the story, and stories like Joey's story, so people don't forget the contribution the horse made, especially in that era of history."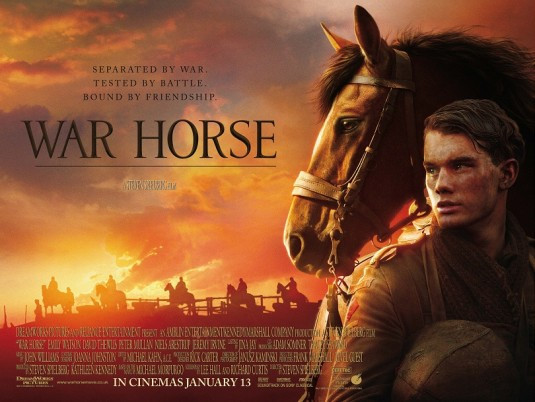 Jeremy Irvine stars as Albert Narracott, who raises and trains Joey. A British stage actor, '"War Horse" is his first film.
"To be allowed to be a part of the next step in this story's journey is such an honor, you know. It's a wonderful story, and there's a reason why it's been so successful so far," Irvine said.
Tom Hiddleston plays Captain Nicholls, a man with heart. "The horse is a talismanic symbol of kindness, of courage, of hope, of forbearance and perseverance through the course of the ocean of horror basically," He said.
One horror is Joey's treacherous travel through "no man's land," where soldiers shot at each other but sometimes offered help.
"They always talk about that humane camaraderie and the nourishment they received from other men, which is rare for us I guess," said Toby Kebbell, who plays Geordie in the film.
"It doesn't matter where people are from," he continued, "that bonds them, and the horse bonds them. That's what's beautiful about it."
World War I, fought in Europe between 1914 and 1918, nearly wiped out a generation of young men but is largely forgotten now. Our connection to it, should not be, the cast says.
Sgt. Henry York, who served in the Canadian Army, was gassed twice while fighting in France. He is my husband's grandfather, who died in 1980. He did not speak about it.
"My great uncle died in the trenches," said Emily Watson, who plays Rosie Narracott in the film. "He was 17, and my grandmother told me about it when she was in her mid-80s. And she, aged 88, sobbed and sobbed and sobbed as if it had been yesterday."
The film's message: none who served in this war should be forgotten, neither soldier nor horse.
"War Horse" opens Christmas Day, and there is already plenty of talk about Oscar nominations.
Email: cmikita@ksl.com
×
Related Links
Related Stories