Estimated read time: 4-5 minutes
This archived news story is available only for your personal, non-commercial use. Information in the story may be outdated or superseded by additional information. Reading or replaying the story in its archived form does not constitute a republication of the story.
FARMINGTON -- Stephanie Randolph-Seng had always been afraid the two gigantic pine trees in the family's backyard would one day fall on their house.
"I never understood why; those trees have survived some really bad winds," said her husband Chad Randolph-Seng, webmaster for the Arrow 103.5 and FM100. "Now, I know."
His grandfather planted the now 80-foot pines as saplings 40 years ago, behind a house he built that Randolph-Seng now owns. When the wind started Thursday morning Stephanie worried about the trees.
The pines seemed fine, so she took her son to the dentist while her husband went to work in Salt Lake City. When she returned home, though, the tree closest to the family's home was "swaying dangerously," she told her husband in a phone call.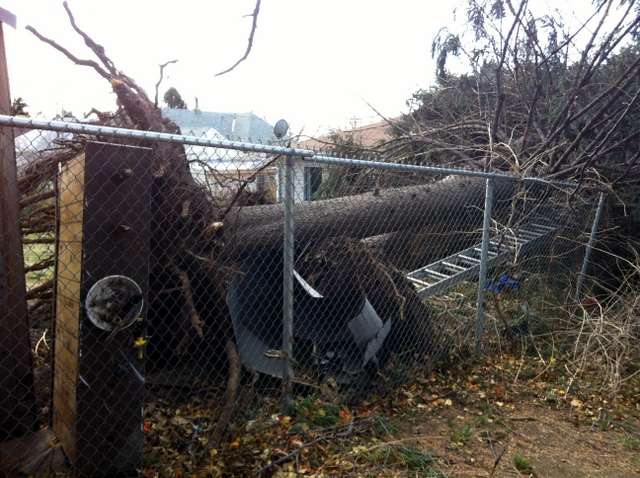 "She said, 'I think the trees are going to come down and hit our house,' so I decided to go home and see if maybe I could, I don't know, lasso it and guide it down or something," Randolph-Seng said.
Five minutes later, it was too late. Stephanie called her husband to tell him the two trees had fallen, hitting the house just as she was packing to leave with her two children.
"She didn't want to stay there with the kids because it didn't feel safe," Randolph-Seng said. "The kids were out front, and she heard a big bang in the back of the house. She didn't even look; she just went straight to the neighbors' house."
One tree had hit the house above the master bedroom, puncturing the roof and going through the attic. The other had effectively destroyed the family's fence. The family was not displaced, though, because the tree did not puncture the drywall.
The main concern is if a winter storm hits this week. Snow showers are expected to start late Friday night and continue into Saturday morning, posing further risk of loss to those whose homes were damaged in Thursday's wind storm.
---
She heard a big bang in the back of the house. She didn't even look; she just went straight to the neighbors' house.
–Chad Randolph-Seng
---
"We got lucky because the tree didn't go through the drywall," Randolph-Seng said. "I'm just hoping it doesn't snow … if it gets wet, that could cause a lot more damage."
"I'm sure that's a problem a lot of people are having," he continued. "We're all just hoping a storm doesn't come."
His situation is not unique in his neighborhood. Other neighbors had trees hit their homes. Many of the felled trees missed houses, but blocked access to doorways or damaged yards. One man lost much of his yard when the roots of a large pine were ripped out in the wind.
They are all dealing with their own concerns, but they are uniting as a community to help neighbors in need. When Randolf-Seng took a chainsaw to one of his pines because he was afraid his roof would collapse under the weight of the tree, his neighbors found their own saws and helped, despite their own concerns.
"People are calling each other and seeing who needs help," Randolph-Seng said. "They helped me remove the top branches from my roof. I got a call today because my neighbor had a lot of trees come down and some hit his house -- I just know he needs help."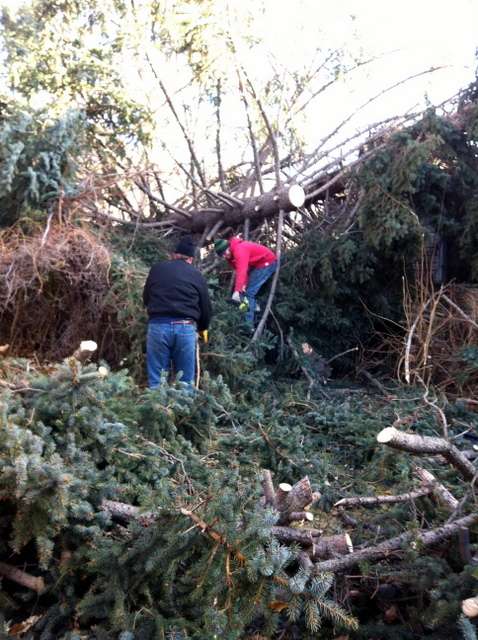 Rumors of a state of emergency declared by all of Davis County, which were later declared by city officials to be unfounded, led some residents to hope they could receive help from the government as they work to rebuild.
"Insurance only covers part of the cost, and you never know how fair they will be" Randolph-Seng said. "It would be nice to know if funding is available."
Officials in Centerville, which did declare a state of emergency, said the city government may be eligible for help with removal equipment, but would not receive other funding. Instead, homeowners should work with their insurance agents to determine an appropriate course of action to begin repairing Thursday's wreckage.
Despite the damage, Randolph-Seng is confident Utahns will recover quickly.
"We aren't used to this kind of weather, and that probably affected how prepared we were," he said. "But we have a strong sense of community here. That in itself is a type of preparation -- a lot of people know their neighbors."
"And a lot of hands can do a lot of things."
The Arrow 103.5 and FM100 (100.3FM) are owned by Deseret Media Companies, which also owns ksl.com
×
Photos
Related stories
Most recent Utah stories