This archived news story is available only for your personal, non-commercial use. Information in the story may be outdated or superseded by additional information. Reading or replaying the story in its archived form does not constitute a republication of the story.
SALT LAKE CITY — You could walk by Eldon Cannon a hundred times on Temple Square and have no idea who he is — and that's just the way he likes it.
"People don't generally know who I am, they don't recognize me," Cannon said. "I get the opportunity to walk around, to listen to the comments that are made."
That way, he says, he can hear honest opinions about his work. As the grounds manager, Cannon is in charge of making sure Temple Square is all set up for the Christmas season.
"Personally, you want to make sure it's just right," he said.
Visiting Temple Square during the Christmas season to see all the lights is a tradition for thousands of families. Many travel from outside of Utah to see the displays.
---
This is a year round process. We actually begin putting the lights in the trees and the cables in the trees in August.
–Eldon Cannon, grounds manager
---
The work to get everything ready, though, begins when snow is the furthest thing from most people's minds.
"This is a year round process," Cannon said. "We actually begin putting the lights in the trees and the cables in the trees in August."
It takes a lot of work to string these lights. On many trees, it seems as if every single branch is wired.
That's also the beauty of Temple Square at Christmas, where even the smallest detail is a big deal. Stand-in trees are even brought in to add to the experience.
The most popular question Cannon hears: how many lights are there on Temple Square?
"Oh, there are a lot," Cannon told KSL News. "The thing is we don't know it, because every time you wrap a tree, you wrap it a little bit differently than you did the year before."
That makes counting all the lights difficult. However, we asked him to estimate the number of lights on one of the bigger trees, like the Cedars of Lebanon tree on the Southeast side of the Salt Lake Temple.
"That one has about 1,500 strands of lights, and if you got 50 lights per strand, it's about 75,000 lights on a single tree," Cannon said. "But that's one of the biggest ones we light."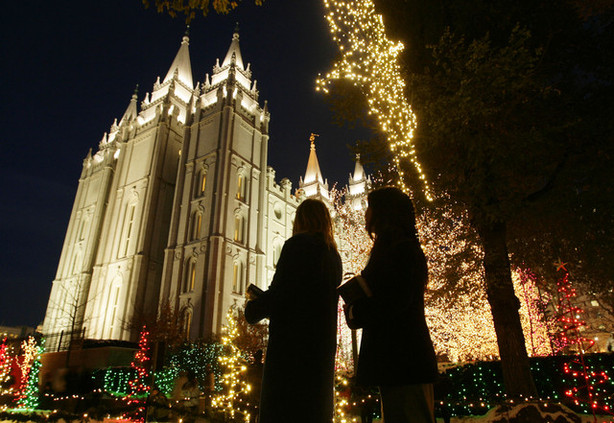 It helps explain why workers have switched to LED lights on many displays. "It gives us a savings on electricity, savings of finance, that type of thing," Cannon said.
Of course, even though the lights are a huge attraction, there's a lot more to see on Temple Square. One beautiful spot is the reflecting pond, where bubble lights surround a water nativity scene.
Next to the LDS Church Office Building, there are smaller nativity scenes for children. Then there is the main nativity scene on the North side of the Salt Lake Tabernacle.
Another attraction includes the Lion and the Beehive houses on the east part of Temple Square. There, traditional fruit displays are set up, along with wreaths and more lights.
"We just try to pull people elsewhere, spread out the crowd and give people something else to look at," explained Jennifer Udy, one of the display coordinators.
The displays stay up until New Year's Day, and it takes until about mid-March to put them all away.
After that, it's four months of planning before it's time to start wiring trees again.
Yes, it is a lot of work, but Cannon says it's all worth it. "You see those crowds come on Temple Square, and they walk around and they have the 'oohs' and the 'aahs' of all of those lights coming on at about dusk," he said.
The lights get turned on for the first time this Friday, the day after Thanksgiving, at dusk.
Email: acabrero@ksl.com
×
Photos
Related Links
More stories you may be interested in