Estimated read time: 4-5 minutes
This archived news story is available only for your personal, non-commercial use. Information in the story may be outdated or superseded by additional information. Reading or replaying the story in its archived form does not constitute a republication of the story.
PROVO — BYU warmed up its house by attacking from the start, and it paid off big time as the Cougars got up early and cruised to a comfortable win over BYU-Hawaii, 73-52, on Tuesday inside the Marriott Center.
From the tip-off the Cougars instinctively pounced on the ball — be it a rebound, steal, or drawn foul. Just six minutes into the half BYU successfully stacked up 13 points without allowing the Seasiders to score once.
BYU never really looked back.
Brandon Davies scored a career-high 25 points to lead BYU, and many other players contributed in the double-digit win.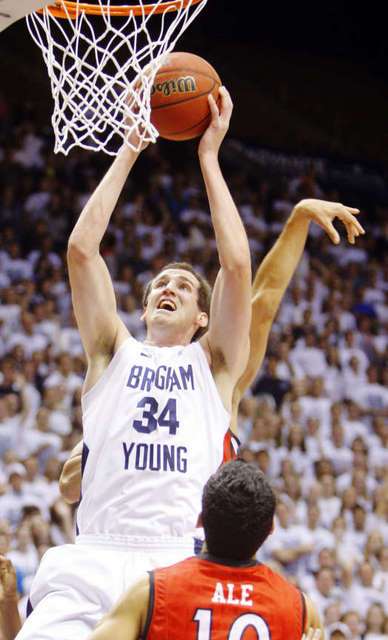 Senior forward Noah Hartsock explained that the high level of focus and aggressiveness was ingrained into the players' minds at practice.
"Before our game we talked about playing on attack," Hartsock said. "So we focused a lot this week on getting up and down the floor and getting inside, starting our offense that way."
In addition to the need for horizontal movement on the court, Hartsock also emphasized the influence of the verticals in the paint.
"It really helped that Brandon started really well, hitting a lot of his shots early," Hartsock said. "That got us going and defensively we were able to play together as a unit. … (He's) going to be a huge key to our success. … If we can get (him) going early it's going to be a good game."
BYU coach Dave Rose agreed.
"Brandon knows that this team needs him," Rose said. "You get the chance to digest that for a couple of days, especially when you're sitting on a loss (to Utah State game last Friday). … Players (begin to) realize the role that they need to play and I think that Noah and Brandon both understand that we need them to be good, especially leading, we need them to be very good early."
Davies bolted out of the gate and gave the team momentum that lasted for a solid 15 minutes. With a little under five minutes to play in the first half, BYU led big, 32-7.
From a coaching perspective Rose was particularly pleased with the first 15 minutes.
"The first 15 minutes of the game was very very good for us. … That was probably our best 15 minutes of the game," Rose said. "Fans watch the game by the score, and if the score is going their direction then they really enjoy the game. But as a coach you watch possession by possession and see how your players are executing each possession. During that stretch I thought that we were really focused in and executed the way we wanted to."
---
The first 15 minutes of the game was very very good for us - That was probably our best 15 minutes of the game.
–Dave Rose
---
BYU didn't play as well as Rose would've hoped the rest of the way, but there were some bright moments.
One such moment occured with a little under two minutes in the first half, as back-up point guard Craig Cusick displayed the Cougars' unified instinctive attack mode. Cusick stripped the ball out of the hands of Hawaii's Brady Hurst at the top of the arc and scored on a breakaway layup.
"The play just happened, before you can even think — I guess it's just kind of a natural instinct," Cusick said. "He was holding the ball and my guy was just coming off a screen right by there, so he held the ball out and my instinct was to rip it from him. And before I knew it, it was in my hands and I was going up for a layup."
BYU Hawaii's Coach Ken Wagner was happy his team improved in the second half — but it wasn't ultimately enough to overcome BYU's dominating first half.
"I thought BYU came out and did a great job defensively," Wagner said. "I don't know that we were ready. We missed a couple early shots and then started taking bad ones. The second half I think our guys came together. After that start, it's tough."
While BYU's players were happy to get a win, they recognized afterward they still need to improve a lot of things.
Davies, who led BYU, echoed those sentiments.
"There's definitely a lot that I can improve on — offensively and defensively," he said.
BYU will again be playing on its warmed up court this Friday against Longwood at 7.
×
Related stories
Most recent Sports stories