This archived news story is available only for your personal, non-commercial use. Information in the story may be outdated or superseded by additional information. Reading or replaying the story in its archived form does not constitute a republication of the story.
PROVO, Utah (AP) - With the home crowd behind him this time, Brandon Davies showed he's capable of carrying Brigham Young this season.
He did early, scoring 14 of BYU's first 21 points and finishing with a career-high 25 as the Cougars (1-1) cruised to a 73-52 victory over Division II BYU-Hawaii on Tuesday night in their home opener.
The junior center started 6 of 6 and had more points at halftime (14) than he did in BYU's season-opening loss at Utah State (13) on Friday. He made 10 of 13 shots.
"Brandon was terrific to start the game," said BYU coach Dave Rose, now 6-1 in home openers.
"Brandon knows that this team needs him. He had a chance to digest that over a couple of days, especially when you're sitting on a loss."
Davies started slowly in Friday's 69-62 loss, in part because of foul trouble. He also was heckled unmercifully in that game, his first back after dismissal from the team in March for an honor-code violation.
Tuesday, the hometown fans gave Davies the loudest ovation.
And he gave them reason to hope, showing strong moves to the hoop, a deft touch and a few rifle passes to set up teammates.
#box
"My shots were falling, my teammates were finding me and we were hitting open shots collectively," Davies said. "We played really well as a team."
Jet Chang and Jake Dastrup led the Seasiders with 12 points apiece, but Chang didn't score his first basket until 4:57 before halftime. By then the Seasiders were trailing 32-9.
The Cougars led 40-17 at the break and dominated in every category, holding the Seasiders to 19.4 percent shooting in the first half.
It was a crowd-pleaser after BYU unveiled its 2011 Mountain West Conference championship banner before the game, with former national player of the year Jimmer Fredette watching from behind the bench.
Fredette, the No. 10 overall pick by Sacramento, likely will be a fixture at more games what with the NBA lockout taking an ugly turn this week.
"I feel for him," Rose said. "He's waited his whole life to get a chance to play (in the NBA). It looks like he's going to have to wait a little bit longer.
"He's frustrated because he doesn't really understand. He's new to the league. He wants what's best for everybody, but he doesn't really know what that is. What he really wants is to play."
Fredette certainly liked what he saw early with his former team, as the Cougars pushed the tempo and scrapped for every loose ball.
They dominated the boards, holding a 51-31 advantage against the shorter Seasiders.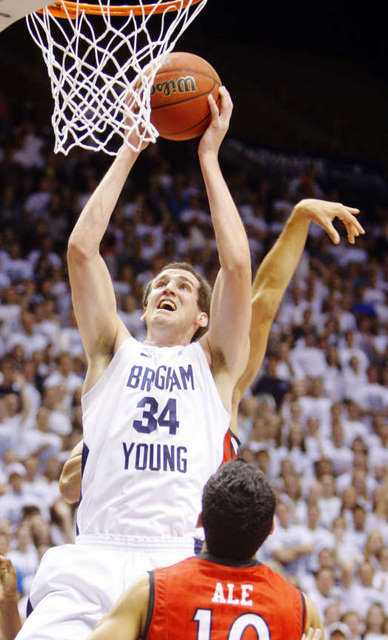 The 6-foot-9 Davies and 6-8 Noah Hartsock did much of the damage, leading BYU with nine rebounds apiece. Hartsock added 14 points despite playing with a broken nose.
Defensively, the Cougars did a good job on Chang, a Division II player of the year candidate. In March, Chang put up Jimmer-like numbers in guiding the Seasiders to the NCAA Division II national championship game, scoring a career-high 43 points as BYU- Hawaii upset top-seeded West Liberty. Chang hit 14 of 17 shots, including seven 3-pointers, in that game.
He was just 5 of 13 overall Tuesday and 1 of 4 from 3-point range.
"He's a really good player and can score in a lot of ways," Hartsock said. "Charles (Abouo) did a good job starting off on him, but it was a team effort. We were able to test most of his shots."
Davies scored eight points, Brock Zylstra added a 3- pointer and Abouo hit a jumper as the Cougars jumped to a 13-0 lead 6 minutes into the game.
Davies scored six of the next eight points as the Cougars increased their lead to 21-3 with 11:54 left. At that point, the Cougars were shooting 72.7 percent to the Seasiders' 11.1.
"I thought BYU did a great job coming out on defense," BYU-Hawaii coach Ken Wagner said. "They just really came after us. I don't know that we were ready."
The Seasiders (0-1) cut the gap to 53-38 on Dastrup's 3-pointer, but Stephen Rogers hit a pair of long-range shots to keep BYU's lead comfortable.
Zylstra started at point guard for the Cougars, but Craig Cusick played 23 minutes there, giving Zylstra a chance to move back to his more natural position on the wing.
Zylstra finished with seven points and Cusick six. Bracken Funk led the Seasiders with eight rebounds but shot just 3 of 15.
Otherwise, the night belonged to Davies.
"I just tried to make sure I was ready today and start off strong," Davies said. "Everyone's trying to get over that first loss, and that was a good way to do it ... play strong your next game."
(Copyright 2011 by The Associated Press. All Rights Reserved.)
×
Photos
Related Links