Estimated read time: 2-3 minutes
This archived news story is available only for your personal, non-commercial use. Information in the story may be outdated or superseded by additional information. Reading or replaying the story in its archived form does not constitute a republication of the story.
Ed Yeates ReportingThree Utah builders of driverless cars are among only 36 semi-finalists invited to compete for a national $2 million grand prize. The winner of what is called the "Urban Challenge" will take home not only cash but a chance to pick up future lucrative contracts.
Thousands of humans drive their motor cars, speeding up, slowing down, lane changing, avoiding collisions and more. But in these cars you just sit there, not touching the steering wheel, the gas feed, the brake, not shifting. That's because the vehicle is makes all of its decisions on its own.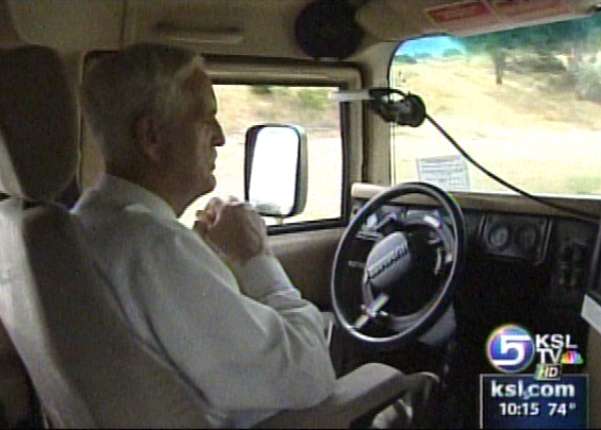 It's what is called an autonomous vehicle. They've been retrofitted to drive themselves.
Troy Takach, with Team Juggernaut, says, "Driving is this mundane thing that ultimately robots will do for us quite easily."
The strap-on robot is a computerized system developed by Kairos Autonomi. It's sponsoring what is called Team Juggernaut, one of three Utah teams that will take on the Defense Department's Urban Challenge.
DARPA, which is the research arm of the Defense Department, is looking for the best. So this November, it will set up a restricted course in Victorville California for the finalists.
With no humans on board, no remote controls anywhere, the winning vehicle will have to maneuver, avoid collisions, merge with moving traffic, stop and go when needed. It will have to do all that for 60 miles within six hours, using only its own sensors and computers.
Why the challenge? For the safety of soldiers, the military wants one third of its vehicles driverless by 2015. But the future for civilians is much more far reaching.
Takach said, "In the future, I imagine a trip is nothing more than a meeting where we can sit down and perform work."
Or read a book, or sleep, much like we do sitting on a plane.
Autonomous Solutions and the University of Utah are the other two Utah teams competing for the prize. Each of the twenty finalists will have only five minutes to prepare their vehicles before sending them off on a course they won't know about until they get there.
×
Related links
Most recent Utah stories