This archived news story is available only for your personal, non-commercial use. Information in the story may be outdated or superseded by additional information. Reading or replaying the story in its archived form does not constitute a republication of the story.
BOUNTIFUL — A World War II veteran from Bountiful counts on the comfort of music every day. Jack Tueller's trumpet has mellowed the enemy's heart at war and soothed his own soul in a journey that has been rough at times.
At age 91, Tueller has outlasted most of his comrades of war, and his wife of 70 years. But he'll always have his trumpet and the memories and emotions it stirs.
Tueller flew 144 combat missions over Germany in World War II. "You form such close bonds with your comrades, in some ways it's as close as man and wife," he said.
On D-Day, he and his comrades flew eight missions. Days later, they were ordered to attack a German Panzer division, which was trying to flee.
As they flew in low, Tueller's crew saw French women and children posed on the tanks as human shields. The American pilots would not fire and reported what they had seen.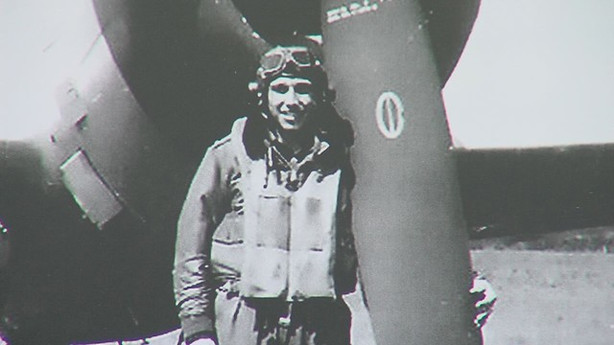 "We were ordered back with the comment 'those French civilians are expendable,' Tueller recalled.
He lives with that image today.
"What eight .50-calibers did to innocent hostages," Tueller said, pausing after being overcome by emotion, "that's where we had our baptism by fire."
It upset all of them. Three pilots did not pull out in time, and crashed into the tanks.
"They gave their life for their country. They gave their life for what they were supposed to do," Tueller said.
That night, as the pilots camped at the airstrip 2 miles from the beach at Normandy, Tueller took out his trumpet to ease his nerves.
"The commander said, 'Don't play tonight. There's one German sniper left,'" he recalled.
The commander was worried the trumpet would signal their location to the sniper, but Teuller had to play. "So, I played 'Lili Marlene,'" he said. "I knew that was the Germans' love song."
He wanted to mellow the sniper's heart. "And boy was I right," Teuller said. "He was taken prisoner the next morning."
Related:
The young German didn't fire another shot. And when he was captured, he wanted to know who played such beautiful music through the night. Tueller and the young sniper shook hands.
"He was no enemy," Tueller said. "He was just a scared kid like me."
Tueller was orphaned at age 5 and raised by his aunt near Rock Springs, Wyo. "My tough life made me tough," he said.
His wife, Marjorie, also played the trumpet. They played duets together until she died earlier this year. "That was a wonderful woman — one of the finest trumpet players I've ever met," Tueller said.
He said he thinks of her as he plays for schools, for Veterans Day events, and at the Holbrook Canyon trailhead just about every day. "I use music as my alcohol; and boy, it's paid off every one of my 91 years," Teuller said.
Tueller served 25 years in the Air Force after World War II, retiring as a colonel. You'll still see him playing in public, sharing the tunes he loves.
Email: jboal@ksl.com
×
Photos