This archived news story is available only for your personal, non-commercial use. Information in the story may be outdated or superseded by additional information. Reading or replaying the story in its archived form does not constitute a republication of the story.
SALT LAKE CITY - There will be a new 4A champion in 2011. The Logan Grizzlies eliminated defending champ Highland ending the Rams quest to repeat.
Now the question is whether anyone in 4A can compete with Logan. The Grizzlies have dominated 4A competition this season outscoring opponents by an average of 29 points per game. No 4A team has come closer than 14 points against the Grizzlies. There are three teams left who hope to change that in the next two weeks.
Can anyone compete with the Grizzlies? We'll find out starting Thursday. Here is a look at the matchups.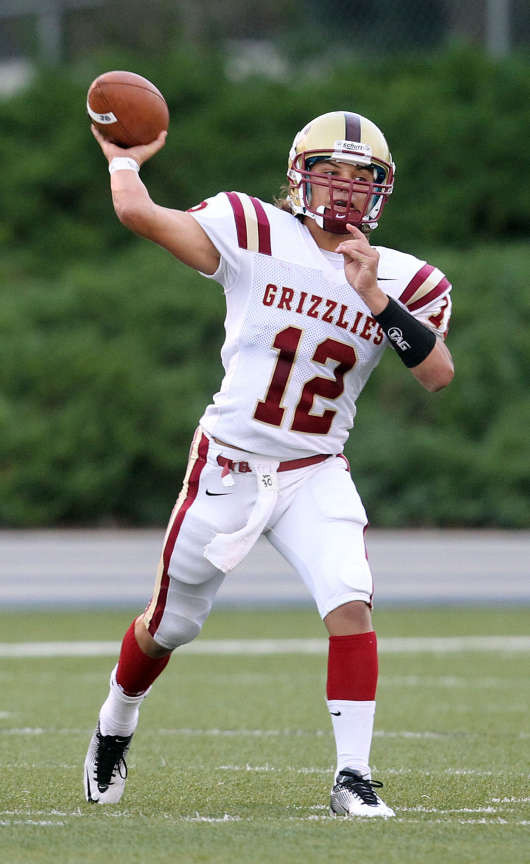 Logan (12-0) vs. Bountiful (8-4), 11 a.m. Thursday
Bountiful leads series with Logan 8-3
Players to watch: - D.J. Nelson QB Logan - 2,939 yards passing, 43 touchdowns, 6 interceptions, 1,381 rushing yards and 21 rushing touchdowns. Committed to Utah State.
Chasen Anderson Logan - 128 tackles 10.7 per game.
Rylee Gautavai LB Bountiful - 118 tackles 1.5 sacks 2 interceptions.
Watching D.J. Nelson execute Logan's spread offense is a thing of beauty. The USU bound quarterback has found the end zone with his arm or legs 64 times. That is not a typo. He has passed for 2,939 yards, 43 touchdowns and just 6 interceptions with a 63 percent completion rate. He has also rushed for 1,381 yards and 21 touchdowns. D.J. no longer lives in the shadow of his older brother Riley and has established his own legacy at Logan High School. Now he hopes to win a state title just as his older brother did in 2005. He gets plenty of help from his teammates. Logan is loaded with talent like running back John Schmidt who has found the end zone 16 times this season.
When the offense scores 44 points per game the performance of the Grizzlies defense can get overlooked. That would be a mistake. They are just as good defensively holding their opponents to a 4A best 15 points per game. Defensive back Johnny Luke leads the state with 10 interceptions while Chasen Anderson is 2nd in the state with 128 tackles.
As for Bountiful, head coach Larry Wall has done it again. Now in his 27th season at Bountiful, he has led the Braves to another appearance in the semifinals. That didn't seem possible after the first four weeks of the season. The Braves started 1-3 thanks to a difficult schedule that featured Lone Peak, Viewmont and Logan. They have gone 7-1 since and the challenging start seems to have benefited the team in the long run. They are peaking at the right time just as they did last year when they reached the semifinals. The pain of that heartbreaking 42-35 loss to Mountain Crest that ended their season in 2010 has provided plenty of motivation in 2011.
Running back Jakob Hunt has led the charge on offense with 1,057 yards rushing and 14 touchdowns while Rylee Gautavai is the star on defense with 112 tackles, 1.5 sacks and 2 interceptions.
Logan demolished Bountiful 56-31 in the 3rd week of the season. Expect a much closer game this time around but a similar result.
KSL Prediction: Logan 28 Bountiful 14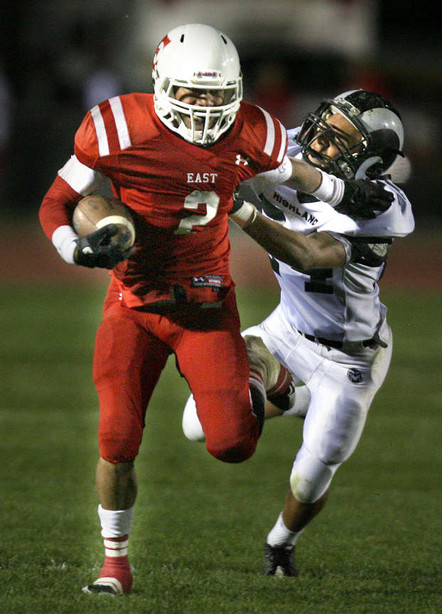 Timpview (10-2) vs. East (11-1), 2:30 p.m. Thursday
East leads series with Timpview 3-2
Players to watch: - Ricky Shumway WR Timpview - 64 rec., 1,108 yards, 18 TDs
Josh Burr LB Timpview - 114 tackles, 5 sacks, 3 interceptions
Liti Molisi RB East 1,180 yards, 7 touchdowns
Jason Cook QB East 1,034 yards, 16 TDs
It wasn't long ago that Timpview was Utah's football dynasty. The Thunderbirds won 4 consecutive state championships from 2006-2009 and during that run set a state record for consecutive wins with 36. They produced college and NFL talent like Chicago Bears running back Harvey Unga, Bears defensive lineman Stephen Paea and BYU offensive lineman Matt Reynolds just to name a few. Timpview isn't the dominant football factory it used to be but the program continues to win. They had several games come down to the last minute, including last week's 24-17 win over Westlake, but have managed to achieve another 10 win season. That is 6 straight seasons with 10 or more wins.
No. 3 Timpview doesn't have the star power of the past but they do have much better unity and chemistry. Ricky Shumway has been the playmaker on offense catching 64 passes for 1,108 yards and 18 of quarterback Jake Lloyd's 26 touchdown passes. Josh Burr leads the defense with 114 tackles, 5 sacks and 3 interceptions.
East has come a long way since finishing with a 1-8 record just two years ago. Head Coach Brandon Matich has changed the culture of this program and brought a swagger and identity that was missing. The 2nd ranked Leopards started the season 9-0. They logged shutouts against region rivals Highland and Bountiful. They have also had their share of challenging games. They pulled off an overtime upset of Fremont and just last week needed to force a fumble at the goal line to survive an upset bid from Skyline. They are sure to face even more challenges if they hope to win their first state title since a Sione Pouha led team won it all in 1996.
The Leopards boast two 1,000 yard rushers in running back Liti Molisi and quarterback Jason Cook. They are big and physical on defense and force a lot of turnovers including 22 interceptions. They have scored 8 touchdowns on defense of special teams.
There is history between these two teams. East defeated Timpview to win the 1996 state championship. Timpview would get revenge in the 2001state championship game.
The Leopards ended Timpview's season in 2005 quarterfinals and the T-birds would get payback in the semifinals the following season. Once again both teams will try to advance at the expense of the other team.
KSL Prediction: East 21 Timpview 14
Email: jjensen@ksl.com
Twitter: @JJSportsBeat
×
Related Stories