Estimated read time: 4-5 minutes
This archived news story is available only for your personal, non-commercial use. Information in the story may be outdated or superseded by additional information. Reading or replaying the story in its archived form does not constitute a republication of the story.
PROVO -- After a much needed bye week for BYU, after coming off a frustrating loss against the TCU Horned Frogs, the Cougars are looking to bounce back against the Idaho Vandals.
Saturday will mark the fourth time these teams have met, giving the Cougars a chance to even the series 2-2. Last time these teams met was in 1955 when the Vandals came out on top of a blowout 49-6.
However, BYU is undefeated against Idaho in the month of November meeting one time and coming away with a 32-0 victory.
History does have a way of repeating itself.
Idaho's football team has been in existence since 1893, and has an overall record of 438-552-26. In 1997 the Vandals were officially made a Division-1 (now FBS) football program.
Since 2004 Idaho has been apart of the Western Athletic Conference and have yet to win a conference championship. The Vandals have played in two bowl games in the school's history, and have won them both.
Robb Akey has coached the Vandals since 2007 and has an overall record of 17-34. In Akey's tenure, Idaho football has seen flashes of promise for the future, but it has been hard for them to stay consistent. Last season they ended with a record of 6-7 with no bowl appearance, but are currently 2-7 this season.
OFFENSE
The Idaho Vandals' problems at the quarterback position are somewhat reminiscent of BYU's own quarterback problems.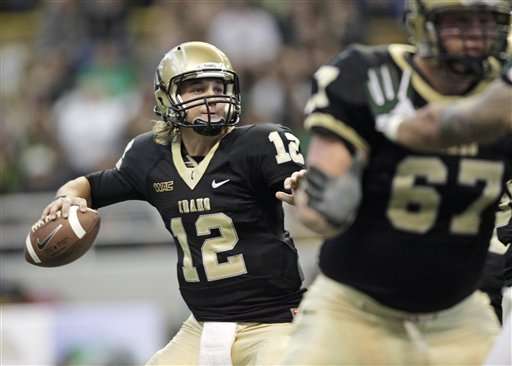 Two weeks ago, senior quarterback Brian Reader was replaced mid-game against Hawaii by sophomore Taylor Davis. Although they lost against Hawaii, Davis showed enough promise to start against San Jose State the following week and battled until the end for the 32-29 victory.
"I think since we won, we'll keep him," Akey told the Spokesman-Review. "We're like butter now - we're on a roll. We've got to keep it going."
Davis has only played this season and so far has acquired 207 passing yards on 21/41 passes for one touchdown and two interceptions.
As a team, the Vandals have thrown for 1,756 yards, with 10 touchdowns and 10 interceptions, along with 865 rushing yards and seven touchdowns on the ground.
Junior wide receiver Mike Scott leads all Vandal receivers with 568 yards on 45 receptions, but surprisingly only one touchdown this season. Scott's cohort, senior wide receiver Armauni Johnson is a much bigger target at 6 feet 4 inches tall, but suffered a season ending injury with a broken arm against Hawaii.
Senior running back Princeton McCarty is the premiere running back for the Vandals. McCarty has gained 494 rushing yards on 119 carries and two touchdowns.
Overall it looks like the Idaho Vandals run a fairly balanced offensive attack, distributing the ball evenly between the ground and the air, but are one of the worst offenses in the country, ranking just 115th out of 120 teams.
While BYU's offense averages 387 yards a game (65th in the country), the Cougars average almost 100 yards more per game. The Vandals struggle to move the ball, hence the change at quarterback, averaging just 291 yards a game.
Idaho gets less than 200 yards through the air and less than 100 yards on the ground and average just over 21 points a game.
DEFENSE
Idaho's defense isn't as bad, but that's not saying much. The Vandals give up over 406 yards a game, ranking them 80th in the country.
They allow 125 yards on the ground, a respectable total, but give up more than 280 yards in the air, and have allowed 17 passing touchdowns.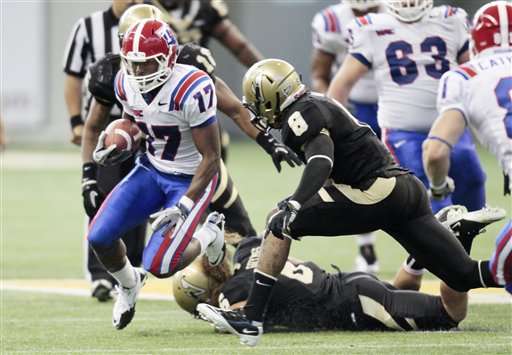 It's never really a good sign when your teams leading tackler is a defensive back as is the case for the Vandals. Junior safety Gary Walker leads the team with 79 total tackles, 50 solo tackles. Suffice it to say, if a BYU receiver still has Walker to beat on the field, he will likely go down.
Senior Tre'Shawn Robinson and junior Conrad Scheidt are two bruising linebackers that have combined for a total 148 tackles (13 for loss,) three sacks, three pass breakups, and five fumbles forced.
Senior linebacker Korey Toomer compliments the two with three sacks of his own that have gone for a total loss of 23 yards.
Junior defensive end Benson Mayowa has three sacks, and five quarterback hurries. Of the defensive linemen, it's definitely Mayowa who finds his way through the line faster than anyone else.
Senior safety Quin Ashley leads the defense with two interceptions, and also has a fumble recovery. Freshman safety Bradley Njoku also tacks on an interception of his own that he returned all the way for a touchdown in Idaho's blowout victory over North Dakota 44-14.
30 offensive touchdowns have been scored on the Vandals through nine games this season; they allow 28 points a game, just over a point more than the Cougars have averaged so far this season.
It shouldn't be too much of a battle for the Cougars on Saturday, but it's also clear that Rob Akey and his Idaho Vandals will not just come to Provo to roll over.
"We are looking forward to channeling our efforts into our next opponent," said head coach Bronco Mendenhall. "We are glad to be at home again for the next two weeks and working now on the home stretch."
Email: onlinesports@ksl.com
×
Related stories
Most recent Sports stories