Estimated read time: 2-3 minutes
This archived news story is available only for your personal, non-commercial use. Information in the story may be outdated or superseded by additional information. Reading or replaying the story in its archived form does not constitute a republication of the story.
SALT LAKE CITY -- Halloween is always Oct. 31, and tonight also a school night - not the easiest for homework assignments and with too much sugar for regular bedtime. Some parents throughout the country would like to see that change to the last Friday of October.
That may not be so easy to do because Halloween is traditionally tied to the days that follow All Hallows Eve - Nov. 1st, All Saints Day, and Nov. 2nd, All Souls Day. They are connected by both ancient and religious traditions.
We call it Halloween, that's really a contraction for All- Hallows-Eve, now a tradition marked by trick-or-treating and pumpkins. But the history behind the holiday dates back thousands of years.
"One of them was Samhain, an ancient Celtic holiday that preceded winter, celebrated when the earth was at its most barren, before the snow falls, often in Northern Europe," said Dr. Paul Kerry, associate professor of History at BYU.
"This tradition was based on the belief that the souls of those that has passed on were migrating and out and about in the world."
To keep those souls away, many would light bonfires, but there are also less scary traditions. In England, children still recite a jingle as they go door-to-door.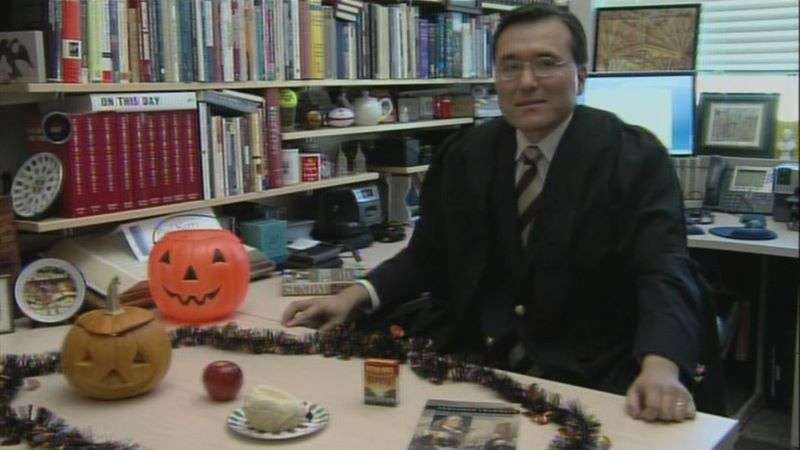 The sky is blue
The grass is green
Have you got a penny for Halloween?
If you haven't got a penny,
a ha'penny will do.
If you haven't got a ha'penny,
then God bless you. Which leads us to Nov. 1, All Saints Day, when many Christian churches celebrate the very best among us. Since there are so many Catholic Saints, it was necessary to create one day to honor all of them.
The Feast of All Saints can be traced back to Pope Gregory III, who lived in the 8th century. Today, there are thousands of saints or those who will be.
"Mother Teresa of Calcutta, for instance," said the Reverend Monsignor Joseph M. Mayo, pastor of the Cathedral of the Madeleine, "who was in her own lifetime, a living legend, a saint, and now, after her death is on the way to sainthood, much like John Paul II is. So, to do that, the Church sets aside Nov. 1 as that special day."
Bishop John Wester will perform mass on Wednesday at the mausoleum of the Salt Lake City Cemetery on All Souls Day, remembering all of those who have remained faithful during the year, but who have not attained the level of worthiness to attain entrance into Heaven.
Email: [cmikita@ksl.com](<mailto: cmikita@ksl.com>)
×
Related stories
Most recent Utah stories