Estimated read time: 4-5 minutes
This archived news story is available only for your personal, non-commercial use. Information in the story may be outdated or superseded by additional information. Reading or replaying the story in its archived form does not constitute a republication of the story.
SALT LAKE CITY — Today's technology has profoundly changed the way we lead our lives.
Social networking has allowed us to stay instantaneously close to friends and family. Cell phones can keep us in contact nearly any where at any time.
But those same tools can also give much of the world a view of what we shared with others on Facebook, or through that phone app track you to share our thoughts with much of the world.
Government hearings are streamed live to public audiences and online access to government documents has allowed for more transparency and public participation. But new technology has also raised serious questions concerning privacy and protection of personal information.
What used to be potentially embarrassing moments can now be circulated across the globe.
"Those things that were funny at the time. Those days are kind of gone. Everyone has a cell phone and can take a photo of it, or video, and post it on YouTube," said law professor Randy Dryer. Studies have shown that about 80 percent of human resource managers check Google and social networking sites before hiring a person.
---
I think it's made all of us really paranoid, actually.
–Tanner Gould
---
In order to navigate this complex new world of technology, Dryer has created an honors course at the University of Utah that explores issues of transparency and privacy. Co-instructors, attorney Corper James and SJ Quinney College of Law librarian Valeri Craigle, help maintain the class website and develop the class curriculum.
"The Honors College has had a whole series of think tanks on different topics," Dryer said. "I came up with this topic because it's the hot topic right now with the development of Facebook and other social networking platforms."
Dryer calls it a "think tank in a fish bowl." In the spirit of transparency, the class itself is kept transparent: classes are video recorded, student assignments are posted online, students are required to blog once a week and post Tweets daily about their thoughts on transparency. The class website can be accessed by anyone, and even includes a section where the public can leave comments for the class.
Some students say after spending almost a semester studying these issues, they have altered their online habits in what they say and what pictures they post.
"I think it's made all of us really paranoid, actually," said student Tanner Gould. Even in writing a paper for the class, Gould said he is more strict about the quality of his work — not because professor Dryer will be reading it, but because members of the public will also.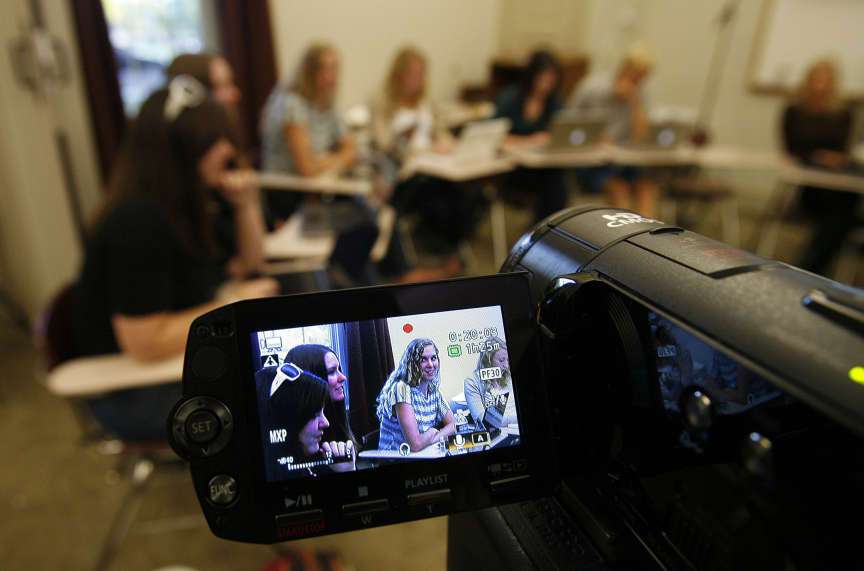 Tianna Tu said she has learned to keep in mind that "the Internet never forgets." Careers, even elections, can come crashing down because of something posted online years ago.
"This class has really opened my eyes to the way that technology has changed transparency and privacy," Tu said.
In particular, Tu said she is concerned about younger students, 13 and 14, and their online habits. "They're not being censored and so that might affect them when they make career choices, because, like I said, the Internet doesn't forget."
Dryer agrees that young people are learning the consequences of sharing with the world "what they're doing, who they're doing it with and when they're doing it."
"It's a blessing and a curse, and the curse is that while transparency is good for institutions, it's not always good for people," he said.
---
This class has really opened my eyes to the way that technology has changed transparency and privacy.
–Tianna Tu
---
While many privacy experts have expressed concern about "Big Brother government" invading privacy, Dryer said little attention has been paid to "Big Brother corporation" collecting information on people.
Students in the class will study these topics for two semesters. Dryer said in the second semester, this spring, students will develop and work on a transparency project. That project is still being developed.
Student Theresa Krause said she remains optimistic that new technologies will further open government to the public, but she is also interested in how the law has reacted to privacy issues in social media.
"After this class, I try to be really careful about what I post online. I think probably the most personal thing I have posted online is probably my personal profile for this class," Krause said.
Email: gfattah@desnews.com
×
Photos
Related links
Most recent Utah stories