Estimated read time: 5-6 minutes
This archived news story is available only for your personal, non-commercial use. Information in the story may be outdated or superseded by additional information. Reading or replaying the story in its archived form does not constitute a republication of the story.
SALT LAKE CITY -- A new product being used across the country to save the lives of babies born under two pounds two ounces is made from human breast milk. Utah mothers are being asked for their help in this life-saving procedure.
Prolact+H2MF is a human milk fortifier that is completely derived 100 percent human milk, according to Prolacta.com, the website for Prolacta Bioscience, the company that invented this product. Prolact+H2MF is a fortifier added to a mother's milk in order to add additional calories and nutrients that are essential for premature babies.
While milk fortifier derived from cows milk has been around since the 1990s, this new fortifier has only been around for a few years, Scott Estler, CEO of Prolacta Bioscience. He said that Prolacta got the idea from the milk fortifiers that formula companies have been using for years.
"We thought it was a great idea to develop a milk fortifier developed entirely from human breast milk, rather than cows milk," Estler said.
Because the fortifier is made from 100 percent human milk, the help of healthy mother's across the country is essential. Prolacta teamed up with the Susan G. Komen Breast Cancer Foundation to create "Helping Hands Milk Bank." Helping Hands collects milk from mothers who produce excess milk to create the fortifier, Estler said.
Because the company wants to give back to those woman who donate, for every ounce of milk donated, $1 is donated to the Susan G. Komen Breast Cancer Foundation, Estler said. Helpinghandsbank.com states that over $75,000 has been donated to the Susan G. Komen Foundation, which equals about 75,000 ounces of milk.
Estler stressed the importance of donated milk coming from generally healthy women. According to the Center for Disease Control and Prevention, around 85 percent of Utah women breastfeed their babies. Because of the low rate of cancer, a low number of women who smoke or binge drink, and low obesity rates, Utah women are the perfect candidates to donate milk, according to a news release from Prolacta.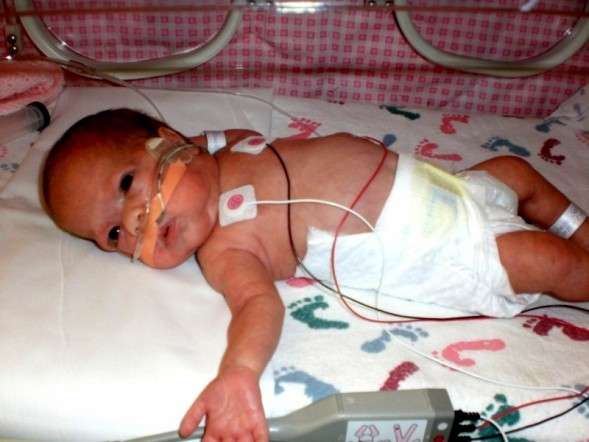 This fortifier is only used on premature babies that weigh less than two pounds 12 ounces, and are typically born between 23 and 30 weeks gestation, Estler said. About 40,000 babies born in the United States each year fall into this category.
"Human milk alone does not have enough calories or protein to help this premature babies grow at the rate they need to," Estler said. "While human milk contains about 20 calories per ounce, by adding this fortifier, the calorie amount is increased to between 24 and 30 ounces, depending on the infants needs."
While Prolacta created Helping Hands Milk Bank, they have partnered with other milk banks across the country. Prolacta tries to work more with charitable milk banks.
"It just suits us," Estler said. "We like saving babies. To an extend, we can extend the donations from mothers. We call it expanding the good."
Currently, Prolacta distributes the milk fortifier to around 70 hospitals in 27 states across the country, and that number is quickly growing, Estler said. The Journal of Pediatrics recently published a study that showed that this fortifier reduced the chance of a very low weight preemie getting Neocrotizing Enterocolitis by 77 percent in comparison to other treatments. This disease is the No. 1 cause of death in these babies, the study stated.
"The medical benefits of this therapy are very clear in the hospitals using it," Estler said. "Parents are very interested in their children receiving human based treatment."
Texas Children's Hospital is one of the hospitals that uses this fortifier on preemie babies, Estler said. In a recent news release from this hospital, they called out to women with excess milk to donate it to create this fortifier as they need it for the near 3,000 babies treated in their newborn center each year.
"Since their 100-percent, breast-milk feeding protocol was implemented in 2009, NEC rates in their NICU have decreased from the national average of 10-12 percent to just two percent," the news release said.
For a baby weighing less than two pounds 12 ounces, the entire stay in the hospital costs between $300,000 and $700,000 dollars, Estler said. The cost of using this fortifier adds an additional $10,000 for about 60 days of use.
However, according to another recent study, by using the fortifier, parents will save around $8,000 in hospital costs because less babies get sick or have to have surgery, Estler said.
Estler emphasized that Prolacta only sells to hospitals and that the parent doesn't pay for the antibiotic.
"The hospital pays the bill," Estler said. "The parents just pay their deductible."
Health care providers decide whether or not this fortifier will be used, Estler said. There are two kinds of hospitals that currently use the fortifier, Estler said: the protocol account where any baby that qualifies automatically gets this car, and a rescue hospital where if a baby is really struggling, they use the product to rescue that child.
---
The medical benefits of this therapy are very clear in the hospitals using it. Parents are very interested in their children receiving human based treatment.
–- Scott Estler, CEO, Prolacta Bioscience
---
"We would love for everyone to be on protocol," Estler said.
In order to donate excess breast milk, a mother needs to visit helpinghandsbank.com to find out if she qualifies. If she does, Prolacta arranges for a phlebotomist to visit her home and draw blood to test for a variety of diseases such as HIV, Hepatitis B and C, and a few other diseases.
Once she is approved, she is sent a cooler with instructions on how to ship her breast milk. The mother fills it up and FedEx picks it up, free of charge. There is no age restriction and the average age of a donating mother is the late 20s, Estler said.
Upon receiving the milk, the manufacturing process is extremely vigorous, Estler said. A YouTube video that can be found at youtube.com/user/prolactabioscience shows the process of creating the fortifier in detail.
Mothers interested in donating can find out more information from helpinghandsbank.com or prolacta.com.
Katie Clark is a Colorado native studying at Brigham Young University. She is working towards a degree in Print Journalism and anxiously awaiting the arrival of her first child in March.
×
Photos
Related links
Most recent Utah stories