Estimated read time: 2-3 minutes
This archived news story is available only for your personal, non-commercial use. Information in the story may be outdated or superseded by additional information. Reading or replaying the story in its archived form does not constitute a republication of the story.
John Hollenhorst ReportingUTA is revving up a public safety campaign to make sure people know the potential danger from the new FrontRunner commuter trains.
They're even reminding people about high school physics, just to underline the point.
There's an old saying that if you race a train to the crossing, and it comes out a tie, you lose. That may not be elementary physics, but it's just plain old common sense when the trains are as big and fast as the FrontRunner.
The TRAX light-rail trains have had their share of tangles with cars on city streets.
But TRAX trains are the little guys compared to the heavy-rail FrontRunner. Brandon Bott, with the Utah Transit Authority, said, "You're looking at about 700,000 pound train."
Part of the plan with FrontRunner is to go faster than the freeway speed limit. "It's very heavy, moving very fast, up to 79 miles an hour," explained Bott.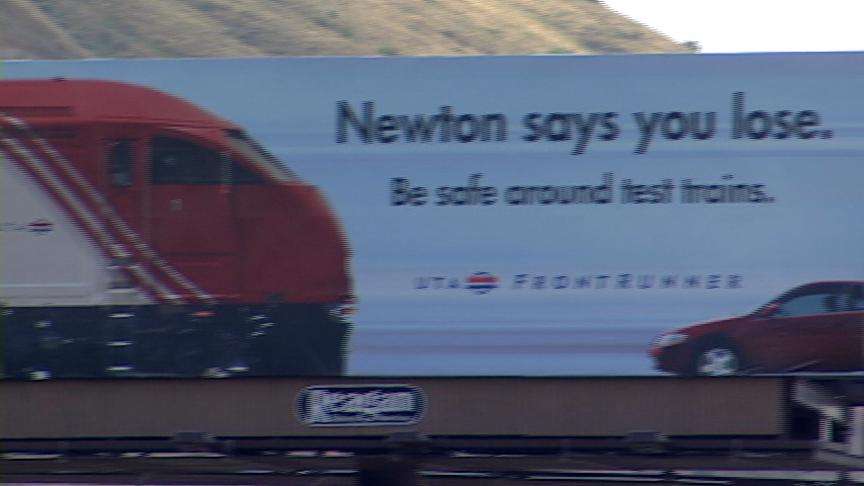 A new public safety billboard says, "Newton Says You Lose." That's Isaac Newton. His physics principles of mass and velocity would come into play at a rail crossing if a FrontRunner train should ever meet, for example, your car.
"It's the equivalent of maybe, if you're car ran over an aluminum can. That's probably a good example of what would happen to your vehicle if it was struck by a train," explained Chad Saley, with the Utah Transit Authority.
The commuter trains will cross roads and streets at street-level in 43 places, and they'll cross at least every half hour.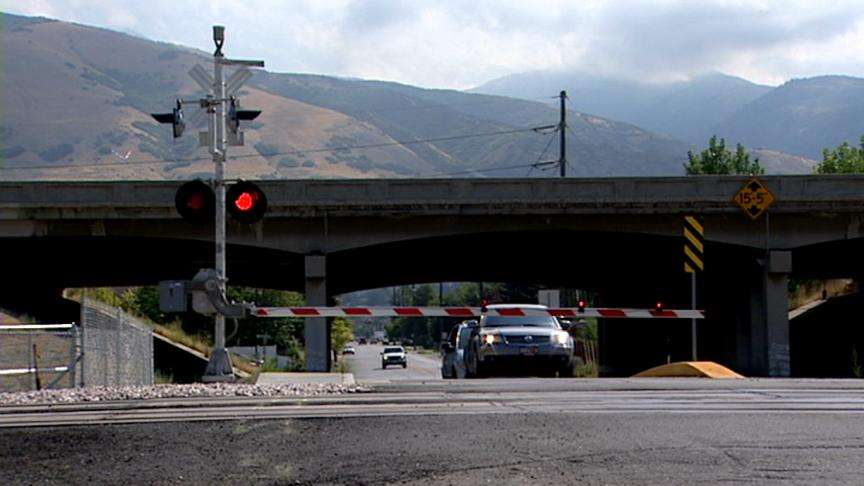 UTA is getting out the safety message with billboards, school assemblies, letters to parents, radio ads and the like.
People may be used to seeing freight trains at the crossings. But commuter trains are even more dangerous. Saley said, "Our trains will be going faster and at a higher frequency than the freight trains."
FrontRunner won't open for business until next spring, but in a few weeks the testing program will expand to include some of the potentially dangerous crossings.
Saley says the trains are going to be out there almost every day, from now until next spring.
The bottom line of the safety campaign is: don't walk along the tracks, obey the signals, and every time you cross the tracks expect a train.
They're pretty quiet, so you may not hear them coming.
×
Related links
Most recent Utah stories