This archived news story is available only for your personal, non-commercial use. Information in the story may be outdated or superseded by additional information. Reading or replaying the story in its archived form does not constitute a republication of the story.
SALT LAKE CITY — Former BYU football standout and NFL football player Reno Mahe and three of his friends were ordered Thursday to stand trial on theft charges.
Following a preliminary hearing before 3rd District Judge Robert Faust, Mahe, fellow former BYU football player Tevita Ofahengaue and Michael Andrus, were all bound over on second-degree felony theft charges. Fred Prescott, 35, was bound over on a third-degree felony theft charge.
The four men have been accused of stealing more than $6,000 in gasoline between August and October of 2010 from a construction company.
---
I thought we were all part of it. I was the A- Core employee, but we all did wrong.
–Mark Evers
---
Mark Evers, 31, was working for A-Core Concrete Cutting at the time and testified in court that he began stealing gas from the company in 2006 using a code he created for a company that maintained fuel pumps. A few months after the code was created, Evers realized its use wasn't documented in regular reports as those linked to employees or their vehicles.
Evers' alleged theft was discovered in October 2010, leading to a review of surveillance tapes dating back to August 2010 that helped police identify Mahe, Ofahengaue, Andrus and Prescott.
An audit showed that more than $55,000 was stolen between June 2006 and October 2010. In 2009, Evers said he told Mahe, a high school friend, that he received free gas as part of his employment package and offered to give gas to Mahe.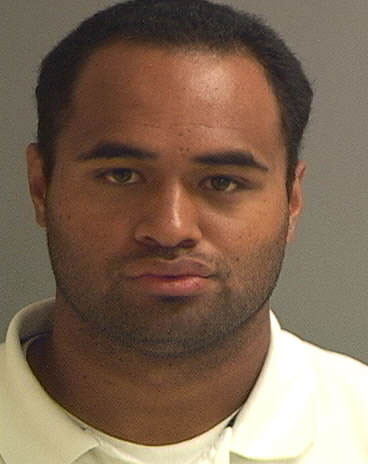 This information was passed on to Andrus and, eventually Prescott and Ofahengaue. Many of the men played church basketball together in Lehi and drove to the A-Core facilities in Murray together to fill up their personal vehicles.
"I thought we were all part of it," Evers said. "I was the A-Core employee, but we all did wrong."
But the various defense attorneys questioned how much their clients actually knew. Evers said all of the men were eventually made aware that he was not, in fact, authorized to take the gas but, when pressed, couldn't name when and where those conversations took place or what was said.
Mahe is charged with being present while $2,688.43 in gas was taken during the Aug. 1 to Oct. 17 timeframe, Murray police detective Tyler Evans said.
Evers, who was charged with theft, a first-degree felony, has been offered a plea agreement in exchange for his testimony that will allow him to plead guilty to a reduced third-degree felony charge, avoid prison time and see his conviction reduced to a misdemeanor if he completes his probation successfully.
Email: emorgan@ksl.com
×
Photos
Related Stories