Estimated read time: 2-3 minutes
This archived news story is available only for your personal, non-commercial use. Information in the story may be outdated or superseded by additional information. Reading or replaying the story in its archived form does not constitute a republication of the story.
Jed Boal ReportingAggressive driving creates a lot of chaos on Utah roads and kills dozens of people every year. A Utah state trooper recently survived a close call with a pair of aggressive drivers and talked with Jed Boal about that dangerous day.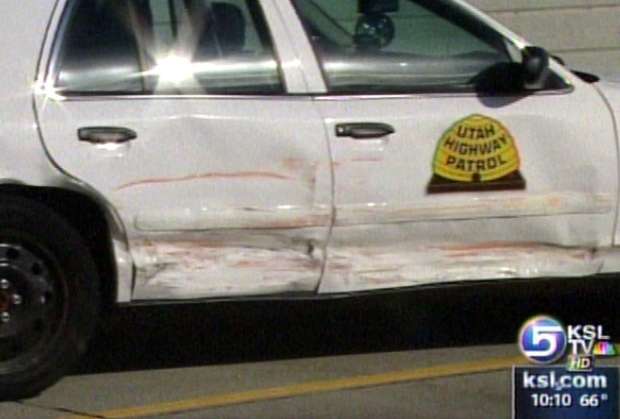 When it's rush-hour on I-15, you can only roll so fast. Last month Trooper Rolynn Snow had a close encounter with a couple of drivers in too much of a rush in rush hour.
Trooper Snow said, "When someone drives like that during rush hour, it stands out."
That's why the trooper pulled over the minivan on I-15.
Trooper Snow says the driver "made several lane changes without signals, cutting a few vehicles off, then it got up to about 82 miles an hour."
In his rear-view mirror he spotted a black SUV speeding and tailgating before slamming into the red car, which hit the trooper's car and the original van from the traffic stop.
UHP Sgt. Stephen Manful says, "This crash is directly related to speed and aggressive driving."
The SUV careened into a semi, "...ultimately causing a five-car pile up in the middle of the freeway in the middle of the afternoon," Snow said.
He says that in the five years he's been on the road for the Utah Highway Patrol, he's noticed an increase in the amount of aggressive driving: more tailgating, more speeding and more dodging in and out of traffic.
The trooper injured his shoulder; no one else was hurt.
Several year ago, the "Slow Down, Move Over" law was enacted to make us all more alert when approaching a trooper. Trooper Snow likes the law, but says they still feel vulnerable on the side of the road with cars racing by.
Turns out the driver of the van did not have an American driver's license, just a foreign ID. The driver of the SUV was cited for unsafe driving.
×
Most recent Utah stories