This archived news story is available only for your personal, non-commercial use. Information in the story may be outdated or superseded by additional information. Reading or replaying the story in its archived form does not constitute a republication of the story.
WEST VALLEY CITY — The family of a West Valley City man killed in a hit and run in West Wendover is desperate for answers.
Terron Demtrices Hooper, known as "Demi," was struck by a vehicle over Labor Day weekend. His family says police have no leads on who might be responsible.
On Saturday, family members plan to return to the scene of the crash and post fliers in hopes someone will come forward with new information. They say anyone who wants to volunteer and help is welcome to join them.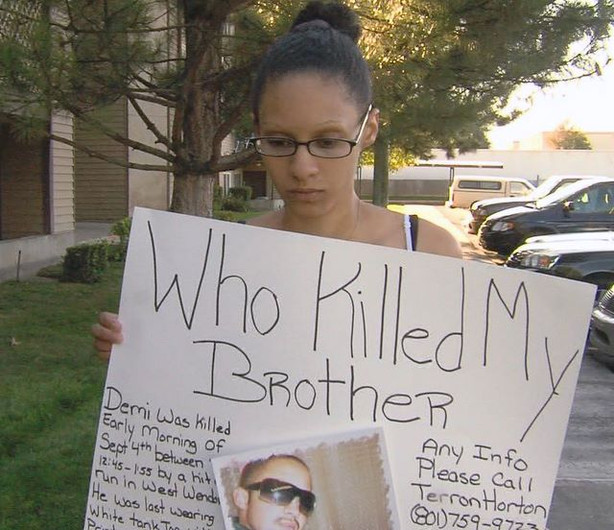 "We're not going to let up until we find who did this to him," said Quartena Hooper, Demi's sister. "I don't think that words can even touch what we're all going through, what we all feel inside, the pain."
Police believe Demi was walking alone when he was apparently struck by a vehicle at the intersection of Wells Avenue and Wendover Boulevard around 2 a.m. on Sept. 4. A cab driver found his body.
It was the weekend of Demi's 22nd birthday.
"I can't understand how someone can do something like that and live with himself with it," said Terron Hooper, Demi's father.
He says soon after the hit-and-run, West Wendover police seized a car but found no evidence it was involved in Demi's death.
Terron Hooper says investigators haven't given the family any other information since. Without tips, he thinks the case will be hard to solve: It was Labor Day weekend in a town full of visitors.
"You got people that come from California, Salt Lake, Ogden, anywhere. It makes it really hard," he said. Demi's sister says she doesn't want vengeance, but the family deserves to know what happened to her brother.
"He's a person. He was a really good person. He was my brother. I have kids. They loved him very much," Quarter Hooper said. "And just to not even stop or to check to see that he's OK, just to drive off like that? I think that's a monster."
But she wants the driver to know she forgives too. "I know in my heart that my brother forgives this person too," Quarter Hooper said.
Anyone with information about the case is asked to call the West Wendover Police Department at 775-664-4393.
Email: syi@ksl.com
×
Related Stories