Estimated read time: 7-8 minutes
This archived news story is available only for your personal, non-commercial use. Information in the story may be outdated or superseded by additional information. Reading or replaying the story in its archived form does not constitute a republication of the story.
MURRAY, Utah — For years, Dave Thacker had been haunted by an experience he had as a young father. At a business conference, he met a man who commented that he was glad his children lived out of state so he wouldn't have to be bothered by his grandkids.
"When I want to see those brats," the man had remarked, "I'll go see them; I don't want them coming to see me."
That cold-hearted attitude toward the man's grandchildren had bothered Dave ever since, and he vowed to become a loving, involved grandfather.
Now, more than 20 years later, Dave has lived up to that vow. He has forged a loving, lasting bond with his grandchildren — and it all started with running errands.
When Dave retired at a relatively early age, he found himself with extra time on his hands. Wanting to give his daughter-in-law a break from her three young children — now ages 7, 4 and 2 — he volunteered to take his grandkids one day a week.
"It is such a help for me as a busy mother," Stephanie Thacker says, "and the kids look forward to those days with their Papa."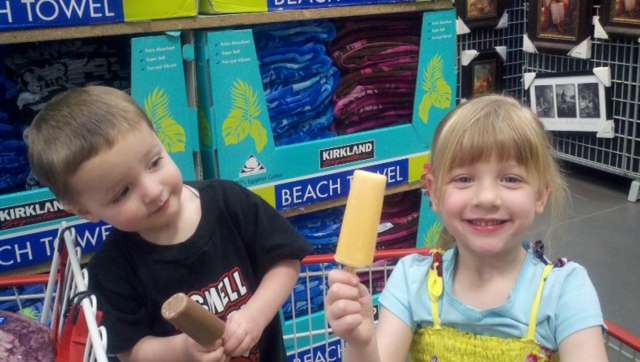 Dave realized he needed something to do when he was tending the grandkids, so he took them along while he ran errands. At first it was just "Papa Dave" and his second granddaughter, who was 3 years old at the time. A few months later, he felt brave enough to add her little brother, who was just 18 months old. When the oldest grandchild is not in school, she loves to come along.
Dave began taking the grandkids to Costco, and they soon developed a routine. Dave had items he needed to purchase with his shopping list, but first he would take the kids through the areas of the store they liked to see. The rules were, they couldn't grab the merchandise and they couldn't start asking for things for him to buy. If they wanted to touch something, Papa had to hand it to them first.
"We'd take a look at girls' dresses, coats, toys, movies, children's books, and I'd explain how things were made and where they came from in the world," Dave says. "That gave me an idea of the children as individuals. I knew what they liked, and I knew their tastes. Sometimes I would go home and tell my wife about an item we could buy them for their birthday."
After going through the areas the kids wanted to see, Dave found ways to make shopping for his items fun for the kids. When it was time to go in the refrigerated produce room and the children objected because it was too cold, he would say, "OK, we'll go fast. Ready? Here we go," making a game out of it.
---
Shopping trips may not work for everyone, but the possibilities for creating special moments and outings with grandkids are endless.
---
When the shopping was over, once in a while when the kids had been especially good and it didn't interfere with their mother's plans, they would have lunch at Costco and the kids got to pick what they wanted to eat.
In the ensuing months the kids would say to their grandpa, "Let's go Papa shopping," and thus the name was born. He would let them choose which vehicle they wanted to ride in, most often choosing Dave's truck because it had a better view from the back seat.
"They liked to drive a certain route, asking to go over the railroad tracks," Dave says. "Little things like that make it more fun."
These shopping days at Costco were so successful, soon they ventured out to other stores. Dave would save the weekly grocery shopping until the day he tended, looking for teaching opportunities to make the trip educational.
"Since I buy a lot of fresh produce, we would talk about produce and how good it was for their bodies," he said. "They loved to go to Harmons because they have the carts that look like little cars the kids could sit in, and they got to drive around while I pushed the cart."
From Studio 5: How to be an involved grandparent

Naturally, sampling cheese and bread was a favorite pastime for the kids, as was picking out a treat for themselves.
"I would give the 2-year-old an item for his very own, like a bottle of chocolate milk," Dave said. "He proudly carried it throughout the store, then at checkout he would give it to the checker, she would scan it, then hand it back to him and I would help him put it in the bag. When we got home he couldn't wait to dig through the grocery bags for his chocolate milk."
Other days they would go to Walmart where he would let the kids look at the toys and sit on the bikes before he finished his errand. Going to Cabela's became a real adventure, because they would look at the in-store animal museum and feed the fish, then they would go upstairs and have a snack or lunch at the restaurant.
"The kids especially loved the camping section because we camp together as a family," Dave said. "They made a connection to happy memories spent in the mountains as a family."
In the springtime they would go to garden centers and nurseries, talking about the different flowers and vegetables. When it was time to plant the geraniums for the front yard, he let them pick out the colors. Returning home, they would help him plant, creating a hobby for the kids and giving them something to do together.
"You wouldn't think a 3-year-old could help plant," Dave says, "but she helped me work the soil and pull the weeds as much as a 3-year-old can. And then when the vegetables are ready to be harvested, the grandkids feel special because they helped in the planting." He planted a row of peas just for them, and the kids would pick them and eat their peas fresh from the garden.
A loving bond has developed between Dave and his grandkids. "It has given me an opportunity to know who they are and they have learned that they can trust me," he says. If they have a moment in the parking lot before the children are in the car, Dave tells them to touch the side of the car so he can keep track of them, and they mind.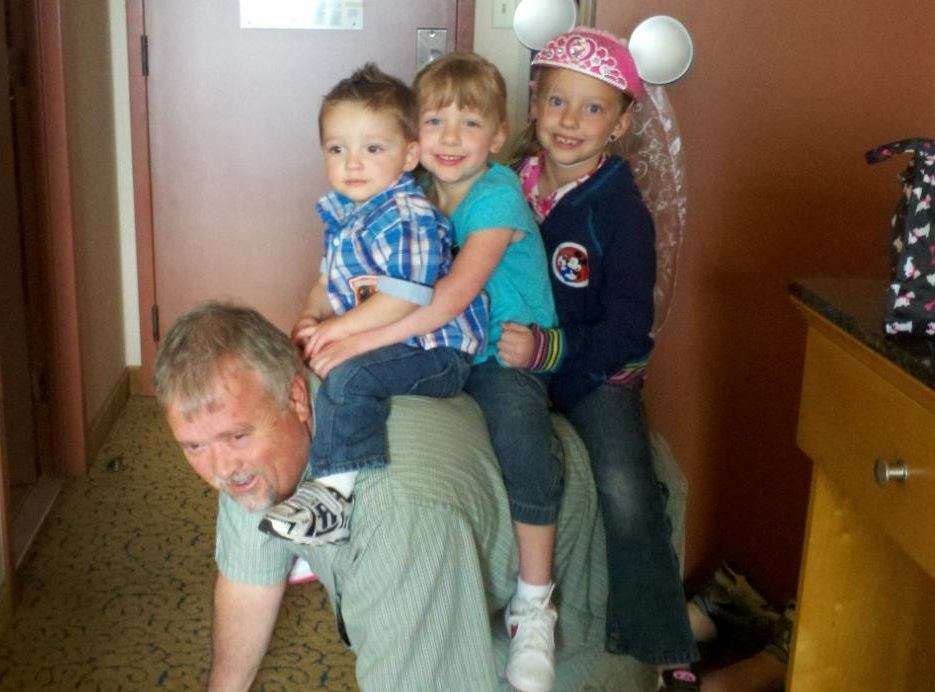 "The 2-year-old never stops touching the car because he understands it's a dangerous world, he needs to obey, and his Papa will keep him safe," Dave says.
The kids haven't always behaved perfectly. On one trip early on, the 3- year-old had a near-tantrum in Costco. Papa Dave reminded her of the rules, but when she didn't behave he took her home right away. It was the first and the last time the children ever acted up.
People often stop Dave at the store and strike up a conversation, remarking on how nicely behaved or cute the kids are or how nice it is to see him shopping with his grandkids. Some are even incredulous that he is a male and that he is taking the grandkids on his own, especially when he has more than one child with him.
Remarkably, when the children are together on these trips they never quarrel. They obey, and they understand that grandpa is not there to buy them something. Knowing they weren't there just for Papa's errand and that they would get to look at things they were interested in gives them patience to quietly wait while Papa Dave gets his shopping completed. When it's time to go home to their mother, they don't argue or put up a fuss to stay longer. They have had a wonderful time, and they know they'll get to do it all again next week.
These trips have become more than shopping trips; they have become special days spent with their Papa. A simple idea has blossomed into priceless experiences Dave will always cherish, and the children have taught him far more than he has taught them.
Even more importantly, he has learned that what children treasure most are not the things we buy for them, but the time we invest.
Kelly Thacker is a business owner and writer who has just finished her first novel.
×
Related Links
Related Stories